30.04.2016 | Original Article | Ausgabe 2/2016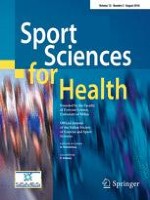 V

O2Max and

V

O2AT: athletic performance and field role of elite soccer players
Zeitschrift:
Autoren:

Danilo Manari, Massimo Manara, Andrea Zurini, Giovanni Tortorella, Mauro Vaccarezza, Nicolò Prandelli, Davide Ancelotti, Marco Vitale, Prisco Mirandola, Daniela Galli
Abstract
Purpose
Maximal oxygen consumption (
V
O
2max
) and oxygen consumption at anaerobic threshold (
V
O
2AT
) are commonly measured parameters to test elite soccer players; however, studies relating metabolic parameters of professional soccer players with performance and best fitting to the field role are scarce. Our aim was to study the relations of
V
O
2max
and
V
O
2AT
with the field role of elite soccer players to generate a robust dataset with a solid statistical analysis.
Method
Over a 12-year period we performed 953 field evaluation tests of
V
O
2 max
and
V
O
2AT
on 450 elite soccer players of 13 professional teams by incremental, continuous and exhausting test modified from Conconi's test. Statistical analysis was performed by one-way ANOVA followed—when appropriate—by Tukey post hoc test. Effect size was evaluated by the Cohen D test and η partial squared test. Statistical significance was set for
p
< 0.05.
Results
V
O
2max
mean values increased at the beginning of season by 1.073 ± 0.06 respect to pre-season then decreased again up to pre-season levels and remained stable, while
V
O
2AT
did not change during time.
V
O
2max
differences were also related to players' field role.
V
O
2max
mean value for Goalkeeper was 50.85 ± 4.2, for central Defender was 57.58 ± 4.3, for Winger-sides back was 60.53 ± 5.02, for Midfielder was 59.53 ± 5.08, for Forward was 56.52 ± 4.14. On the contrary, as expected,
V
O
2AT
percentage variations among the roles were not significant.
Conclusions
V
O
2max
is the choice parameter to consider for the metabolic compliance of athletes to the field role requirements, consequently influencing training programs, recovery and injury prevention strategies.