01.12.2014 | Ausgabe 4/2014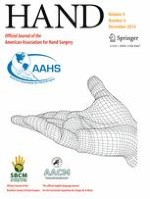 Volar locking plate fixation of distal radius fractures: use of an intra-operative 'carpal shoot through' view to identify dorsal compartment and distal radioulnar joint screw penetration
Zeitschrift:
Autoren:

Daniel Marsland, Chris M. Hobbs, Philip S. Sauvé
Abstract
Introduction
We report our experience using a 'carpal shoot through' view of the distal radius to identify dorsal compartment screw penetration intra-operatively when performing volar plating of the distal radius.
Methods
A prospective study of 42 patients (mean age 56 years) with acute distal radius fractures treated with open reduction internal fixation was undertaken. Surgical fixation was performed using a volar locking plate in all patients. After plate application, inclined posteroanterior and lateral radiographs were taken followed by the carpal shoot through view.
Results
In six cases (14 %), the carpal shoot through view revealed dorsal screw protrusion, which was not detectable on standard PA and lateral views. In one case, a screw had penetrated the distal radioulnar joint (DRUJ), which was only apparent on the shoot through view. The overall screw exchange rate was 17 %.
Conclusions
Using the hand and carpus to minimise the contrast in X-ray penetration, the dorsal cortex of the distal radius may be imaged intra-operatively and dorsal compartment screw penetration detected in cases with significant multifragmentation when screw measurement is difficult. This view potentially reduces the risk of post-operative pain and extensor tendon injury and also provides excellent visualisation of the DRUJ.