01.12.2019 | Research article | Ausgabe 1/2019 Open Access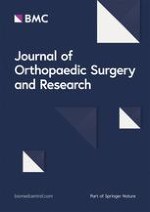 Volar locking plate versus external fixation with optional additional K-wire for treatment of AO type C2/C3 fractures: a retrospective comparative study
Zeitschrift:
Autoren:

Xiaofei Yu, Yadong Yu, Xinzhong Shao, Yanbin Bai, Tong Zhou
Wichtige Hinweise
Publisher's Note
Springer Nature remains neutral with regard to jurisdictional claims in published maps and institutional affiliations.
Abstract
Purpose
This study aimed to compare the radiographic and functional results of
Arbeitsgemeinschaftfür Osteosynthesefragen
(AO) type C2/C3 fracture of distal radius between volar locking plate (VLP) and external fixation (EF).
Methods
It was a retrospective comparative study. Between January 2015 and March 2018, a total of 62/117 patients who underwent EF (23) or VLP fixation (39) for AO type C2/C3 distal radius fractures were assessed. The follow-up period was at least 12 months. Gartland–Werley scale and the disabilities of the arm, shoulder, and hand (DASH) scale were used to evaluate the overall functional outcomes; wrist range of motion and grip strength were measured. The radiographic parameters included radial inclination, volar tilt, radial length, ulnar variance, and articular step-off. All of the comparisons were performed using SPSS 21.0.
Results
The mean follow-up time was 17.1 months. At final visit, VLP performed better in wrist flexion (69.7° vs 62.3°,
p
 < 0.001), forearm pronation (73.1° vs 64.8°,
p
 = 0.027) and supination (70.6° vs 63.1°,
p
 = 0.033) than EF, but not different with regard to other kinematic parameters. No significant difference was found between two groups, in term of Gartland-Werley or DASH score (
p
 > 0.05). The ulnar variance and articular step-off was significantly more improved in VLP than EF group, being 0.6 vs 1.6 mm (
p
 = 0.002) and 0.5 vs 1.2 mm (
p
 = 0.007). The overall rate of complications did not differ in both groups (28.2% vs 34.5%) (
p
 = 0.587).
Conclusions
Compared to EF, VLP fixation showed better performance in wrist mobility, correction of ulnar variance, and improving articular congruence, but with the comparable overall functional outcomes and complication rate.