01.02.2013 | Clinical Article - Brain Injury | Ausgabe 2/2013 Open Access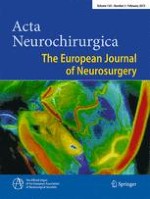 Volume and densities of chronic subdural haematoma obtained from CT imaging as predictors of postoperative recurrence: a prospective study of 107 operated patients
Zeitschrift:
Autoren:

Milo Stanišić, John Hald, Inge Andre Rasmussen, Are Hugo Pripp, Jugoslav Ivanović, Frode Kolstad, Jarle Sundseth, Mark Züchner, Karl-Fredrik Lindegaard
Wichtige Hinweise
Comment
Stanisic and co-workers provide a paper prospectively assessing the volumes and densities of chronic subdural haematomas (CSDHs) obtained from CT images for the prediction of haematoma recurrence in 107 patients. Even though a common disorder and generations of physicians having done research on this disease, CSDH is still not completely understood, and there are numerous publications each year about it. There are different therapy strategies described and the best one is still not clearly defined. Stanisic et al. have described CT criteria for a possible recurrence of CSDH with their therapy regimen. We have to keep in mind, that we must not generalise from these results—there are too many possible differences to other therapy strategies. Burr-hole evacuation or craniotomy? Use of drains or not? How many drains and how long to drain? Where should the drain(s) be localised? When should a postoperative CT control be performed? These are only a few of the many, more-or-less unresolved problems in the evaluation of therapy for CSDH.
Marcus Reinges
Giessen, Germany
Abstract
Background
Chronic subdural haematoma (CSDH) is a common entity in neurosurgery with a considerable postoperative recurrence rate. Computerised tomography (CT) scanning remains the most important diagnostic test for this disorder. The aim of this study was to characterise the relationship between the recurrence of CSDH after treatment with burr-hole irrigation and closed-system drainage technique and CT scan features of these lesions to assess whether CT findings can be used to predict recurrence.
Methods
We investigated preoperative and postoperative CT scan features and recurrence rate of 107 consecutive adult surgical cases of CSDH and assessed any relationship with univariate and multivariate regression analyses.
Results
Seventeen patients (15.9 %) experienced recurrence of CSDH. The preoperative haematoma volume, the isodense, hyperdense, laminar and separated CT densities and the residual total haematoma cavity volume on the 1st postoperative day after removal of the drainage were identified as radiological predictors of recurrence. If the preoperative haematoma volume was under 115 ml and the residual total haematoma cavity volume postoperatively was under 80 ml, the probability of no recurrence was very high (94.4 % and 97.4 % respectively).
Conclusions
These findings from CT imaging may help to identify patients at risk for postoperative recurrence.