01.11.2010 | 2010 SSAT Plenary Presentation | Ausgabe 11/2010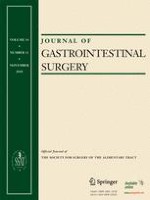 Waist Circumference Predicts Increased Complications in Rectal Cancer Surgery
Zeitschrift:
Autoren:

Courtney J. Balentine, Celia N. Robinson, Christy R. Marshall, Jonathan Wilks, William Buitrago, Kujtim Haderxhanaj, Shubhada Sansgiry, Nancy J. Petersen, Vivek Bansal, Daniel Albo, David H. Berger
Wichtige Hinweise
This paper was presented at the Resident and Fellow Research Conference and a plenary session of the 2010 SSAT Meeting in New Orleans, LA
This work was supported in part by the Houston VA HSR&D Center of Excellence (HFP90-020)
Discussant
Dr. Stuart G. Marcus:
Your presentation was excellent with good command of the data, and also you prepared a well-written manuscript. Your data challenges the accuracy of BMI in predicting surgical complications. Measuring waist circumference certainly seems simple. It's reproducible and it makes intuitive sense for patients undergoing abdominal surgery.
Your data joins a growing body of literature, including a paper presented this morning that highlights an important public policy issue. The concern is that surgeons will avoid operating on obese patients that are identified at high risk in order to keep their own quality report card more acceptable with regards to postop infections, readmissions, or returns to the OR, all potential financial disincentives to practitioners and hospitals.
Furthermore, a possible scenario that one could envision is the development of specialized obesity centers for the referral of high-risk obese patients for non-bariatric surgery similar to what we have seen for pancreatic and esophageal surgery.
With this in mind, I have several questions.
Are there strategies that you recommend to mitigate the risk of complications in patients identified preoperatively as being at high risk?
You mentioned some ranges, but where do you propose the cut-off is for waist circumference where we should begin to worry?
Can your results be extrapolated to women, who have a different body habitus than men? And also can they be extrapolated to patients undergoing non-rectal abdominal surgery?
Finally, can you comment on the use of neoadjuvant chemoradiation therapy and ostomies in your patients and how they contributed to your complication rates?
Closing Discussant
Dr. Courtney Balentine (Houston, TX):
I'll try to take your first two questions together, since I see them as a little bit linked in terms of where the cut-offs are and then what you can actually do about it.
I think that one of the take-home messages from our data is that the effective waist circumference is relatively linear over the range of values we observed, meaning it kind of keeps getting worse as you add more. So there's not a really good, hard and fast cut-off you can say, this is great, this is bad. It's more if we can bring it back down to the lower end of the spectrum, it tends to be better.
I think extrapolating from the medical literature, we say someone is at increased risk for the metabolic syndrome and bad factors associated with diabetes at about 102 cm, and our average waist circumference was 108 cm. So I think we have, just in terms of the broad categories, quite a bit of room for improvement.
In terms of strategy, one of the nice things about rectal cancer, and again, one of the other reasons we focused on it, is you have sort of this extra time between identification of the patient coming to clinic, the setting up of the preop and neoadjuvant therapy before getting to the surgery. And looking at our population, about 80% of our patients are getting neoadjuvant therapy prior to the surgery. And that gives us a nice window in which we can say, hey, we know that if you can drop 10 cm off your waist between the next month and a half when we get you in from clinic to the OR, it will make a big difference.
At the same time, I think there's good data out there to say extra dosing or increasing the dosing of antibiotics in the OR can have some effect in the high-risk patients. And I think that's something we should probably explore in this group, since they certainly seem to be at risk specifically for infections.
I'm not sure from this data that we can really answer the question yet because there weren't enough women in our group to do a good subset analysis, or to do even a remotely robust test for interaction to figure that out.
One of the things we are looking to do is expand our data set and move into our county hospitals, where there are more females as well as different ethnic minority groups in which we can start getting sort of a broader picture and see how widely applicable this is.
In terms of looking outside of rectal cancer surgery specifically, that's something we are actually kind of in the process of doing now. We are looking at all the colon patients as well as the folks who were operated on purely for benign disease instead of cancer. And we are also sort of collaborating with our pancreatic surgeons at the Elkins Pancreas Center and looking at some of these different measures in the pancreatic patients as well to see if it's equally good at predicting risk in that population.
Discussant
Dr. Merril T. Dayton (Buffalo, NY):
I have to stand and just commend the presenter on one of the cleanest presentations I think I've ever seen. I don't know if you noticed, but Dr. Balentine did not use any notes. His presentation was committed to memory. It really enhanced the quality of your presentation.
My first question is a simple one. It's a question about the technique that you used in CT scanning to measure the abdominal girth. Is there a scale on the CT scanner that tells you what the absolute size is relative to what one actually sees?
My second question is, what happens if one sees diastasis or, heaven forbid, an abdominal hernia that increases that girth artificially? Is there a way to factor that in?
The last question is, do you recommend that we have our patients lose weight before we do their surgery, based on your findings here?
Closing Discussant
Dr. Courtney Balentine:
For the last question, certainly, I think it's always a good idea, especially given the body habitus of most of the VA patients running through our group, they could all benefit with a little extra exercise and maybe a little thinning down.
In terms of the technique, what we did was took the image directly from the CT at mid waist level, essentially, and then imported it into sort of a preinstalled version of Photoshop, which allows you to sort of scale directly to the scale marker on the CT imaging from the hospital.
Take that, and then you can do it a couple of ways. You can actually sort of have it calculate to a certain extent for you, and you can guide it as well at the same time to kind of confirm it.
And that sort of helped us with the precision of the measurements. One of the things I didn't bring out in the presentation that did make it in the paper is we went back and had an MD PhD student who was rotating through on surgery do, basically, a subset. He took 50 random CTs that I had already scored and did a whole set of calculations on his own to repeat them to see what the intra-class correlation coefficient was. And it was 0.999. So it's about as reproducible as you can get in this sort of setting.
In terms of dealing with hernias or other things that are sort of adding extra space on CT without actually adding to waist circumference, I didn't run across it in this population. I did run across it a few times in the colon group. And I'm struggling internally on how to deal with that, to be honest.
My approach so far has been to try to approximate where the abdominal wall is and come across that as the true measure of circumference and not counting, sort of extruding viscera. Obviously, I'm not sure if that's the best way to do it, but it seemed reasonable that I'm basically measuring where the skin should be if nothing else were there. And that's kind of how I've been approaching it.
Discussant
Dr. David Greenblatt (Madison, WI):
We have a lot of larger patients in our hospital, too. And in the really big patients, sometimes you can't even see the circumference of the waist. Was that a problem? And did you lose some super-obese patients because of that?
Number two, there's been several papers have come out on this visceral fat measure. And I'm wondering, have you had a chance to compare head to head your measure, this circumference, with the retro renal visceral fat thing and which is better.
Number three, in your analysis, it appears you treated BMI as a continuous variable. What happened if you tried to do it as a categorical variable barrier with a cut-off of like 30 or 35? Would/did it become significant in that case?
Closing discussant
Dr. Courtney Balentine:
Actually, it worked out fairly well for the rectal patients, ironically. No one was so generally obese that I couldn't get a good image at the mid waist level that I was shooting. Where I got into trouble is I wanted to look at a waist-to-hip ratio at the same time and sort of adjust. And at that point, there was a little bit extra fat kind of distributed out over the hips. And for about 10 of those patients, it was cut off. So I didn't end up doing that for these patients.
For some of the colon patients, there were a couple people whose BMI was around the range of 45 to 50. And I just couldn't trust anything that I was getting. It was all folded and shaped around. So that is certainly a limitation of this particular measure.
In going forward, I wouldn't necessarily recommend irradiating people just to get a measure of their waist circumference. I think you put a tape measure around their waist, you get the same useful information. It's just as good. And that's actually something we are looking at exploring prospectively in another study that one of our attendings is doing looking at infections in patients undergoing cancer surgery. He agreed to add that variable for us.
The third question, looking at BMI, how to model it is always something I kind of struggle with when I'm doing it. And I tried it a few different ways in the model. Hard cut-offs in terms of overweight versus obese versus normal weight, tertiles, quartiles. And it seems that no matter how I did it, you kind of saw this nice stepwise trend, which kind of indicated to me there were major peaks and valleys over the range of our data. So I felt fairly comfortable modeling it as a linear continuous variable.
I did it both ways just because I'm paranoid, and the results are pretty much the same. Even if you compared the most obese just to the reference category at the beginning, once you adjust for other factors, the significance kind of starts to fade out of the picture.
The visceral fat, that actually is, ironically, the original hypothesis that I pursued that got me going in this direction. And we found something kind of interesting. We reported the waist circumference data here and the visceral fat at SSO, because we found very different effects.
So when it came to complications, visceral fat, we measured the area at three different levels and took an aggregate average score. We measured the subcutaneous fat and took an aggregate score over three levels, looked at the absolute values of each and how it corresponded to outcomes. We looked at ratios between them and how they corresponded to outcomes.
What we found is, for short-term calculations, visceral and subcutaneous fat seemed to hint at a trend towards more significant complications as the values went up but it wasn't quite significant, whereas waist circumference, we saw, was significant, even after adjusting for other stuff.
The weird part—and I'm still trying to kind of make sense of this internally—is that in terms of long-term survival outcomes, visceral fat and subcutaneous fat seemed to matter, whereas waist circumference shows a trend but it's not quite significant.
So I'm still kind of monkeying around in my head how to explain that. We have some reasons that we are kind of exploring out long term, but it will be about 6 months to a year, I think, before I have enough data to really answer some of our hypotheses for why that turns out to be true.
Abstract
Background
The impact of obesity on development of postoperative complications after gastrointestinal surgery remains controversial. This may be due to the fact that obesity has been calculated by body mass index, a measure that does not account for fat distribution. We hypothesized that waist circumference, a measure of central obesity, would better predict complications after high-risk gastrointestinal procedures.
Methods
Retrospective review of an institutional cancer database identified consecutive cases of men undergoing elective rectal resections. Waist circumference was calculated from preoperative imaging.
Results
From 2002 to 2009, 152 patients with mean age 65.2 ± 0.75 years and body mass index 28.0 ± 0.43 kg/m
2
underwent elective resection of rectal adenoma or carcinoma. Increasing body mass index was not significantly associated with risk of postoperative complications including infection, dehiscence, and reoperation. Greater waist circumference independently predicted increased risk of superficial infections (OR 1.98, 95% CI 1.19–3.30,
p
 < 0.008) and a significantly greater risk of having one or more postoperative complications (OR 1.56, 95% CI 1.04–2.34,
p
 < 0.034).
Conclusions
Waist circumference, a measure of central obesity, is a better predictor of short-term complications than body mass index and can be used to identify patients who may benefit from more aggressive infection control and prevention.