01.12.2012 | Research article | Ausgabe 1/2012 Open Access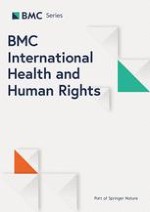 Was there a disparity in age appropriate infant immunization uptake in the theatre of war in the North of Sri Lanka at the height of the hostilities?: a cross-sectional study in resettled areas in the Kilinochchi district
Zeitschrift:
Autoren:

Ananthan Parameswaran, Pushpa Ranjan Wijesinghe
Wichtige Hinweise
Competing interests
Both authors are public servants employed by the Ministry of Health, Sri Lanka. PRW is attached to the Epidemiology Unit, Sri Lanka which is responsible for determining the policy direction of the National Immunization Programme and helping its implementation through provincial/district health authorities. However, PRW was not involved in any activity related to the immunization programme in the study area. We declare that we have no other conflicting financial interests.
Authors' contributions
AP designed the study, implemented it in the field, supervised and analyzed the data. PRW designed the study with AP, developed the methodology, contributed to data analysis and prepared the manuscript. Study instruments were prepared jointly by both authors. Both authors read and approved the final manuscript.
Abstract
Background
It was long speculated that there could be under-immunized pockets in the war affected Northern part of Sri Lanka relative to other areas. With the cessation of hostilities following the military suppression of the rebellion, opportunities have arisen to appraise the immunization status of children in areas of re-settlement in former war ravaged districts.
Methods
We conducted a cross-sectional study to describe the coverage and age appropriateness of infant vaccinations in a former conflict district during the phase of re-settlement. The target population comprised all children of re-settled families in the age group of 12 – 23 months in the district. We selected a study sample of 300 children from among the target population using the WHO's 30 cluster EPI survey method. Trained surveyors collected data using a structured checklist. The infant vaccination status was ascertained by reviewing vaccination records in the Child Health Development Record or any other alternative documentary evidence.
Results
The survey revealed that the proportion of fully vaccinated children in the district was 91%. For individual vaccines, it ranged from 92% (measles) to 100% (BCG, DPT/OPV1). However, the age appropriateness of vaccination was less than 50% for all antigens except for BCG (94%). The maximum number of days of delay of vaccinations ranged from 21 days for BCG to 253 days for measles. Age appropriate vaccination rates significantly differed for DPT/OPV1-3 and measles during the conflict and post-conflict stages while it did not for the BCG. Age appropriate vaccination rates were significantly higher for DPT/OPV1-3 during the conflict while for the measles it was higher in the post conflict stage.
Conclusions
Though the vaccination coverage for infant vaccines in the war affected Kilinochchi district was similar to other districts in the country, it masked a disparity in terms of low age-appropriateness of infant immunizations given in field settings. This finding underscores the need for investigation of underlying reasons and introduction of remedial measures in the stage of restoring Primary Health Care services in the ex-conflict zone.