01.08.2011 | Translational Research and Biomarkers | Ausgabe 8/2011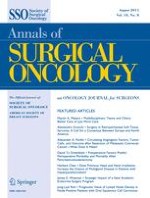 Water: A Simple Solution for Tumor Spillage
Zeitschrift:
Autoren:

MD, PhD Fumito Ito, MS Marta Camoriano, DDS, PhD Mukund Seshadri, PhD Sharon S. Evans, MD John M. Kane III, MD Joseph J. Skitzki
Abstract
Background
Although often proposed as a means to reduce the harmful consequences of tumor spill, water lavage has yet to be systematically evaluated in relevant in vitro and in vivo models. This study evaluates the mechanisms and utility of a single water lavage to improve the sequelae of tumor spill during laparotomy.
Methods
Murine colorectal tumor cell susceptibility to water-induced osmotic lysis was characterized in vitro
.
A reproducible model of tumor spill was established to recapitulate water or saline lavage during laparotomy. Analyses of tumor volumes calculated from noninvasive imaging were performed. The tumor volumes and survival of mice treated with water, normal saline, or sham laparotomy were assessed.
Results
Significant osmotic lysis of cultured murine colorectal cancer cells was observed after a brief exposure to water. Compared to saline or sham laparotomy, water lavage demonstrated superior clinical outcomes with a decrease in tumor burden and concomitant improvement in survival.
Conclusions
The use of water lavage during oncologic surgeries to reduce the sequelae of tumor spill is justified and strongly supported by our study. Data from our study raise several concerns regarding the mechanisms and efficacy of saline lavage. Clinically, the use of water lavage during laparotomy would be anticipated to reduce peritoneal disease burden with minimal toxicity or cost.