18.06.2020 | Original Contributions | Ausgabe 11/2020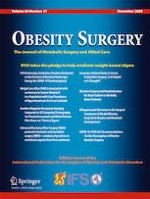 Weight Loss After RYGB Is Associated with an Increase in Serum Vitamin D in a Population with Low Prevalence of Hypovitaminosis D at Low Latitude
Zeitschrift:
Autoren:

Sônia Lopes Pinto, Leidjaira Lopes Juvanhol, Josefina Bressan
Wichtige Hinweise
Publisher's Note
Springer Nature remains neutral with regard to jurisdictional claims in published maps and institutional affiliations.
Abstract
Purpose
In Brazil and worldwide, few studies have investigated vitamin D deficiency in patients with severe obesity who underwent bariatric surgery associated with latitude and level of solar radiation
.
The objective of this study was to investigate the prevalence of vitamin D deficiency and the predictive factors of serum level changes after 12 months of RYGB in a low latitude region.
Materials and Methods
This study included 50 patients from a low-latitude city (10° 10′ 8″ S) in the north of Brazil. We collected data before surgery and after 3 and 12 months of surgery. The level of vitamin D was classified as deficiency (< 20 ng/ml), insufficiency (20–30 ng/ml), and sufficiency (≥ 30 ng/ml).
Results
The mean age of the patients was 38.7 ± 8.9 years, 69% were women, and percent excess weight loss (% EWL) was 83% after 1 year of surgery. The prevalence of vitamin D deficiency in the preoperative period was 14%, and after 3 and 12 months of surgery, it decreased to 4% and 6%, respectively. The variation in vitamin D after 12 months of surgery was positively associated with changes in BMI, body fat, and % EWL.
Conclusions
The prevalence of vitamin D deficiency is low in patients undergoing bariatric surgery in the northern region of Brazil, which is possibly related to low latitude. Weight loss was positively associated with an increase in serum vitamin D after surgery.