01.11.2010 | Clinical Research | Ausgabe 11/2010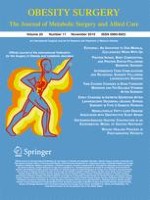 Weight Loss Outcome After Silastic Ring Roux-en-Y Gastric Bypass: 8 Years of Follow-up
Zeitschrift:
Autoren:

Antonio Carlos Valezi, Jorge Mali Junior, Mariano Almeida de Menezes, Edivaldo Macedo de Brito, Shirley A. F. de Souza
Abstract
Background
An underlying major aim of bariatric surgery is weight loss and its long-term maintenance. In spite of this, most studies regarding weight loss after surgical treatment of morbid obesity show 3-year follow-up results. We evaluated the effectiveness of silastic ring Roux-en-Y gastric bypass (SR-RYGBP) in promoting significant weight loss after an 8-year follow-up at the Londrina State University Hospital.
Methods
From May 1999 to December 2000, 211 morbidly obese patients were submitted to SR-RYGBP by the same surgical team. The study's design was longitudinal, prospective, and descriptive. The analysis of postoperative weight decrease was based on excess weight loss in percentage (%EWL) and the calculation of body mass index. Therapeutic failure was considered when patients lost <50% of excess weight.
Results
Patients lost to follow-up were 36.5%; therefore, 134 patients were included in this study. The average global EWL was 67.6 ± 14.9% on the first postoperative year, 72.6 ± 14.9% on the second year, 69.7 ± 15.1% on the fifth postoperative year, and 66.8 ± 7.6% on the eight postoperative year. Surgical treatment failure occurred in 15 patients (7.1%) over 8 years.
Conclusions
SR-RYGBP was effective in promoting and maintaining weight loss in the long term with a low failure rate.