28.04.2016 | Original Paper | Ausgabe 9/2016 Open Access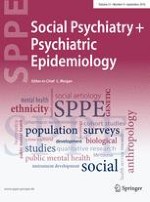 Wellbeing, mental health knowledge and caregiving experiences of siblings of people with psychosis, compared to their peers and parents: an exploratory study
Zeitschrift:
Autoren:

Jacqueline Sin, Trevor Murrells, Debbie Spain, Ian Norman, Claire Henderson
Abstract
Purpose
The wellbeing and caregiving experiences of family carers supporting people with psychosis has garnered increasing interest. Evidence indicates that the burden of caregiving can adversely impact on parents' wellbeing, few studies have investigated whether this is also the case for siblings, who often take on caregiving responsibilities. This exploratory study investigated the wellbeing, mental health knowledge, and appraisals of caregiving in siblings of individuals with psychosis.
Method
Using a cross-sectional design, 90 siblings completed three validated questionnaires: Warwick–Edinburgh Mental Wellbeing Scale (WEMWBS), Mental Health Knowledge Schedule (MAKS), and Experience of Caregiving Inventory (ECI). Data obtained were compared to general population norms and parent-carers' scores. Multi-variable regression analyses were conducted to examine relationships between questionnaire scores and demographic characteristics including age, sex, birth order, marital status, accommodation and educational level.
Results
Siblings, especially sisters, had significantly poorer mental wellbeing, compared to normative scores. Conversely, they had better mental health knowledge. Siblings and parent-carers had comparable high levels of negative appraisals of caregiving experiences, but siblings reported more satisfaction with personal experiences and relationships. Education level was a significant predictor for better mental health knowledge; there were no other relationships between siblings' demographic factors and outcomes.
Conclusion
Study findings suggest that siblings have overlapping as well as distinct needs, compared to parent-carers. Further research is required to better understand siblings' experiences so as to inform development of targeted interventions that enhance wellbeing and caregiving capacity.