01.12.2018 | Research | Ausgabe 1/2018 Open Access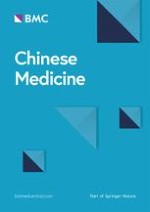 Wentong decoction cures allergic bronchial asthma by regulating the apoptosis imbalance of EOS
Zeitschrift:
Autoren:

Yue Yan, Hai-Peng Bao, Chun-Lei Li, Qi Shi, Yan-Hua Kong, Ting Yao, You-Lin Li
Wichtige Hinweise
Electronic supplementary material
Yue Yan, Hai-Peng Bao and Chun-Lei Li are co-first authors
Abstract
Background
Eosinophils (EOS) is one of the most important cells involved in the pathogenesis of chronic airway inflammation in asthma, and its apoptosis is part of the mechanisms of asthma. Therefore, this study aimed to observe the effect of Chinese medicine Wentong decoction (WTD) in EOS apoptosis in asthmatic rats. This work also explored the mechanism of WTD regulation in EOS apoptosis and provided a new target for clinical treatment of asthma.
Methods
Asthmatic rats induced by ovalbumin were treated with WTD. Lung function of rats in each group was detected, and lung tissue pathology, EOS counts in blood and bronchoalveolar lavage fluid were observed. The degree of the EOS apoptosis in rats was detected. The expression content of interleukin (IL)-5, IL-10, chemokine (C–C motif) ligand 5 (CCL5), granulocyte–macrophage colony-stimulating factor (GM-CSF), transforming growth factor beta 1 (TGF-β1), interferon (IFN)-γ, and other cytokines in rat serum and the genes of Eotaxin mRNA, Fas mRNA, FasL mRNA, Fas/FasL and Bcl-2 mRNA in the lung tissues were determined.
Results
WTD can reduced airway resistance in rat models and improved airway compliance. The pathological changes of lung tissue in WTD group were significantly alleviated, at the same time, WTD could reduce the EOS count in the blood and BALF smears of the asthmatic model rats. Compared with the model group, the apoptosis degree of EOS significantly increased in rats in the WTD group. The expression of IL-5, CCL5, and GM-CSF in the serum and the expression of Eotaxin mRNA, Bcl-2 mRNA in the lung tissues in rats in the WTD group rats decreased. Moreover, the expression of IL-10, TGF-β1, and IFN-γ in the serum and the expression of Fas mRNA, FasL mRNA in the lung tissues in rats in the WTD group rats increased compared with that in rats in the model group.
Conclusions
Wentong decoction may accelerate EOS apoptosis, reduce asthma inflammation, and alleviate the disease through regulating and controlling the factors related to the anti-apoptosis and pro-apoptosis.