01.12.2018 | Case report | Ausgabe 1/2018 Open Access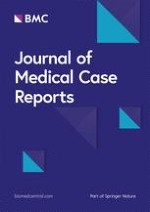 Wernekink commissure syndrome with palatal myoclonus at onset: a case report and review of the literature
Zeitschrift:
Autoren:

Naresh Mullaguri, Anusha Battineni, Miguel Chuquilin
Abstract
Background
Wernekink commissure syndrome causes a peculiar combination of internuclear ophthalmoplegia, dysarthria, and delayed-onset palatal myoclonus. Palatal myoclonus is thought to be secondary to delayed hypertrophic degeneration of the bilateral inferior olivary nuclei secondary to involvement of bilateral dentatoolivary tract. We describe a case of a patient with early-onset palatal myoclonus.
Case presentation
A 53-year-old Caucasian man with several vascular risk factors presented to our emergency room with slurred speech, double vision, difficulty with swallowing and walking, and rhythmic contractions of the soft palate. Brain magnetic resonance imaging showed an acute infarct of the right caudal midbrain and an old infarct of the right medulla. We hypothesize that the cause of early palatal myoclonus in our patient was a two-hit mechanism with degeneration of the right olivary nucleus resulting from prior right medullary lacunar stroke with the new infarct affecting the dentato-rubro-olivary tract on the left side, causing bilateral dysfunction initiating palatal myoclonus.
Conclusions
Wernekink commissure syndrome with palatal myoclonus at onset suggests the presence of a prior ischemic insult in the medulla. Careful examination is important to identification of this presentation.