15.07.2016 | Clinical Research | Ausgabe 12/2016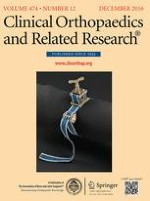 What are the Functional Results, Complications, and Outcomes of Using a Custom Unipolar Wrist Hemiarthroplasty for Treatment of Grade III Giant Cell Tumors of the Distal Radius?
Zeitschrift:
Autoren:

MD, PhD Baichuan Wang, MD, PhD Qiang Wu, MD, PhD Jianxiang Liu, PhD Songfeng Chen, MD, PhD Zhicai Zhang, MD, PhD Zengwu Shao
Wichtige Hinweise
Each author certifies that he or she, or a member of his or her immediate family, has no funding or commercial associations (eg, consultancies, stock ownership, equity interest, patent/licensing arrangements, etc) that might pose a conflict of interest in connection with the submitted article. This study was approved and monitored by the institutional review board of our hospital.
All ICMJE Conflict of Interest Forms for authors and
Clinical Orthopaedics and Related Research
®
editors and board members are on file with the publication and can be viewed on request.
Each author certifies that his or her institution approved the human protocol for this investigation, that all investigations were conducted in conformity with ethical principles of research, and that informed consent for participation in the study was obtained.
Abstract
Purpose
A giant cell tumor (GCT) of bone presenting in the distal radius is rare, however, when they occur, Campanacci Grade III tumors can present formidable reconstructive challenges. They are associated with a high local recurrence rate with intralesional treatment, therefore approaches to reconstruct the wrist after en bloc resection warrant study.
Questions
We asked: (1) What are the functional outcomes after en bloc resection and reconstruction of the wrist with a unipolar prosthesis in patients with Grade III GCT of the distal radius? (2) What complications occur with use of a unipolar prosthesis in these patients? (3) What are the oncologic outcomes with using en bloc resection and reconstruction with a custom unipolar wrist hemiarthroplasty for Grade III GCTs of the distal radius?
Methods
We retrospectively analyzed 10 patients with Campanacci Grade III GCTs of the distal radius treated by a unipolar prosthesis after wide resection of the tumor between January 2008 and October 2013. During that period, all patients at our medical group who presented with a Grade III GCT of the distal radius were treated with wide resection and reconstruction using a custom unipolar implant. Pre- and postoperative pain at rest were assessed according to a 10-cm VAS score. The functional outcomes of the wrist were assessed using the modified Mayo wrist score, and the degenerative changes were evaluated radiographically by a new rating system based on the Knirk and Jupiter scale. We also analyzed tumor recurrence, metastases, and complications associated with the reconstruction procedure. All patients were available for followup at a mean of 52 months (range, 24–90 months).
Results
Although the complication rate associated with prosthetic arthroplasty was relatively high (six of 10), none of our patients experienced severe complications. Two patients reported having occasional pain of the involved wrist at the time of final followup (VAS, preoperative versus postoperative: 0 versus 3; 5 versus 2, respectively). The mean modified Mayo wrist score was 68 (range, 45–90). Degenerative changes were found in three wrists (Grade 1, two patients; Grade 2, one patient). Aseptic loosening occurred in one patient and wrist subluxation occurred in two patients. Lung metastases or local tumor recurrence were not observed.
Conclusions
Because of the proportion of patients who had complications and progressive degeneration with this approach, we recommend first exploring alternatives to reconstruction with custom unipolar wrist hemiarthroplasty after resection of Grade III GCTs of the distal radius, such as fibular autografting. However, this technique provides an alternative for patients with concerns regarding possible morbidity associated with autografting, and for situations when allograft is not available.
Level of Evidence
Level IV, therapeutic study.