01.04.2015 | Symposium: 2014 Bernese Hip Symposium | Ausgabe 4/2015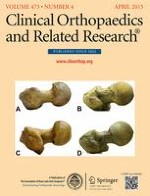 What Are the Radiographic Reference Values for Acetabular Under- and Overcoverage?
Zeitschrift:
Autoren:

MD Moritz Tannast, MD Markus S. Hanke, PhD Guoyan Zheng, MD Simon D. Steppacher, MD Klaus A. Siebenrock
Wichtige Hinweise
One of the authors (MT) has received funding from the Swiss National Science Foundation.
All ICMJE Conflict of Interest Forms for authors and
Clinical Orthopaedics and Related Research
®
editors and board members are on file with the publication and can be viewed on request.
Clinical Orthopaedics and Related Research
®
neither advocates nor endorses the use of any treatment, drug, or device. Readers are encouraged to always seek additional information, including FDA-approval status, of any drug or device prior to clinical use.
Each author certifies that his or her institution approved the human protocol for this investigation, that all investigations were conducted in conformity with ethical principles of research, and that informed consent for participation in the study was obtained.
Abstract
Background
Both acetabular undercoverage (hip dysplasia) and overcoverage (pincer-type femoroacetabular impingement) can result in hip osteoarthritis. In contrast to undercoverage, there is a lack of information on radiographic reference values for excessive acetabular coverage.
Questions/purposes
(1) How do common radiographic hip parameters differ in hips with a deficient or an excessive acetabulum in relation to a control group; and (2) what are the reference values determined from these data for acetabular under- and overcoverage?
Methods
We retrospectively compared 11 radiographic parameters describing the radiographic acetabular anatomy among hip dysplasia (26 hips undergoing periacetabular osteotomy), control hips (21 hips, requiring no rim trimming during surgical hip dislocation), hips with overcoverage (14 hips, requiring rim trimming during surgical hip dislocation), and hips with severe overcoverage (25 hips, defined as having acetabular protrusio). The hips were selected from a patient cohort of a total of 593 hips. Radiographic parameters were assessed with computerized methods on anteroposterior pelvic radiographs and corrected for neutral pelvic orientation with the help of a true lateral radiograph.
Results
All parameters except the crossover sign differed among the four study groups. From dysplasia through control and overcoverage, the lateral center-edge angle, acetabular arc, and anteroposterior/craniocaudal coverage increased. In contrast, the medial center-edge angle, extrusion/acetabular index, Sharp angle, and prevalence of the posterior wall sign decreased. The following reference values were found: lateral center-edge angle 23° to 33°, medial center-edge angle 35° to 44°, acetabular arc 61° to 65°, extrusion index 17% to 27%, acetabular index 3° to 13°, Sharp angle 38° to 42°, negative crossover sign, positive posterior wall sign, anterior femoral head coverage 15% to 26%, posterior femoral head coverage 36% to 47%, and craniocaudal coverage 70% to 83%.
Conclusions
These acetabular reference values define excessive and deficient coverage. They may be used for radiographic evaluation of symptomatic hips, may offer possible predictors for surgical outcomes, and serve to guide clinical decision-making.
Level of Evidence
Level III, diagnostic study.