01.12.2015 | Research article | Ausgabe 1/2015 Open Access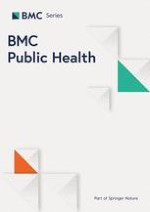 What makes health impact assessments successful? Factors contributing to effectiveness in Australia and New Zealand
Zeitschrift:
Autoren:

Fiona Haigh, Elizabeth Harris, Ben Harris-Roxas, Fran Baum, Andrew L. Dannenberg, Mark F. Harris, Helen Keleher, Lynn Kemp, Richard Morgan, Harrison NG Chok, Jeff Spickett
Wichtige Hinweise
Electronic supplementary material
The online version of this article (doi:
10.​1186/​s12889-015-2319-8
) contains supplementary material, which is available to authorized users.
Competing interests
The authors declare that they have no competing interests.
Authors' contributions
EH, FB, BH-R, LK, JS, HK, RM, MH, AD are investigators on the ARC discovery grant funded project that this paper originates from. All of the investigators were involved in conceptualizing and designing the project. FH and HNC are researchers employed on the project. All of the authors reviewed at least one of the 55 HIA reports and the 11 case studies that form the basis for this article (data analysis). FH collected the data for the case studies and carried out preliminary analysis of the survey and case study data. All of the authors significantly contributed to the analysis and interpretation of the data. FH drafted the manuscript, EH supervised the research and contributed to the analysis and development of the manuscript, and BHR contributed to the analysis and development of the manuscript. BHR also carried out the background research for the additional file
1
. All of the authors were involved in conceptualizing the article. Since then the article has been circulated to the whole project group for comment and then revised and re-circulated for further comment. All authors have critically revised and made detailed comments on multiple versions of the article. All authors read and approved the final manuscript.
Authors' information
Not applicable.
Abstract
Background
While many guidelines explain how to conduct Health Impact Assessments (HIAs), less is known about the factors that determine the extent to which HIAs affect health considerations in the decision making process. We investigated which factors are associated with increased or reduced effectiveness of HIAs in changing decisions and in the implementation of policies, programs or projects. This study builds on and tests the Harris and Harris-Roxas' conceptual framework for evaluating HIA effectiveness, which emphasises context, process and output as key domains.
Methods
We reviewed 55 HIA reports in Australia and New Zealand from 2005 to 2009 and conducted surveys and interviews for 48 of these HIAs. Eleven detailed case studies were undertaken using document review and stakeholder interviews. Case study participants were selected through purposeful and snowball sampling. The data were analysed by thematic content analysis. Findings were synthesised and mapped against the conceptual framework. A stakeholder forum was utilised to test face validity and practical adequacy of the findings.
Results
We found that some features of HIA are essential, such as the stepwise but flexible process, and evidence based approach. Non-essential features that can enhance the impact of HIAs include capacity and experience; 'right person right level'; involvement of decision-makers and communities; and relationships and partnerships. There are contextual factors outside of HIA such as fit with planning and decision making context, broader global context and unanticipated events, and shared values and goals that may influence a HIA. Crosscutting factors include proactive positioning, and time and timeliness. These all operate within complex open systems, involving multiple decision-makers, levels of decision-making, and points of influence. The Harris and Harris-Roxas framework was generally supported.
Conclusion
We have confirmed previously identified factors influencing effectiveness of HIA and identified new factors such as proactive positioning. Our findings challenge some presumptions about 'right' timing for HIA and the rationality and linearity of decision-making processes. The influence of right timing on decision making needs to be seen within the context of other factors such as proactive positioning. This research can help HIA practitioners and researchers understand and identify what can be enhanced within the HIA process. Practitioners can adapt the flexible HIA process to accommodate the external contextual factors identified in this report.