01.03.2013 | North American Society of Head and Neck Pathology Companion Meeting, March 3, 2013, Baltimore, Maryland | Ausgabe 1/2013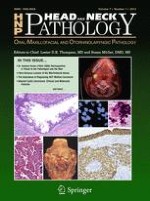 What the
EWSR1

-

ATF1

Fusion has Taught Us About Hyalinizing Clear Cell Carcinoma
Zeitschrift:
Autoren:

Jeff Tanguay, Ilan Weinreb
Abstract
Hyalinizing clear cell carcinoma (HCCC) is a unique low-grade tumor composed of cords and nests of clear cells in a hyalinized stroma that was first reported by Milchgrub et al. It was recognized as a separate entity from clear cell variants of epithelial-myoepithelial carcinoma, myoepithelial carcinoma and mucoepidermoid carcinoma. HCCC is included in a long list of clear cell-containing tumors of salivary gland, as well as odontogenic tumors and metastases (renal cell carcinoma). Up until now, it has been considered a diagnosis of exclusion, despite its very distinctive appearance, and labeled as "not otherwise specified" by the World Health Organization. The emergence of molecular data in salivary gland tumors, including HCCC now allow for a more rigorous appraisal of its spectrum. The
EWSR1
-
ATF1
fusion has proven the concept of a "mucinous HCCC" and removes mucin as an exclusion criterion for this tumor. It has also proven a genetic link between clear cell odontogenic carcinoma and HCCC. Molecularly-proven cases have also highlighted variant morphologies and shown that cases with overt squamous differentiation are true HCCC. This gives further weight to the classification of this tumor as squamous or adenosquamous in differentiation and as a specific entity rather than an "NOS" tumor.