01.12.2017 | Review | Ausgabe 1/2017 Open Access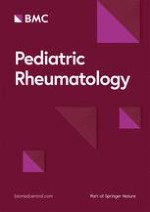 When a patient suspected with juvenile idiopathic arthritis turns out to be diagnosed with an infectious disease – a review of Lyme arthritis in children
Zeitschrift:
Autoren:

Krzysztof Orczyk, Joanna Świdrowska-Jaros, Elżbieta Smolewska
Abbreviations
CDC
The centers for disease control and prevention
DMARDs
Disease modifying antirheumatic drugs
ECGF
Endothelial cell growth factor
ELISA
Enzyme-linked immunosorbent assay
HLA-DR
Human leukocyte antigen-D-related
IDSA
Infectious diseases society of America
JIA
Juvenile idiopathic arthritis
NapA
Neutrophil activating protein A
NSAIDs
Non-steroidal anti-inflammatory drugs
PCR
Polymerase chain reaction
TNF-α
Tumor necrosis factor alpha
VlsE
Vmp-like sequence lipoprotein E
Background
Lyme arthritis (LA) is a feature of late stage infection with the tick-borne spirochete,
Borrelia burgdorferi (B. burgdorferi)
. It usually occurs weeks to months after the initial tick bite and may be preceded by erythema migrans (EM) [
1
]. This erythematous patch with a characteristic central clearing forming a typical "bull's eye lesion" is considered to be a pathognomonic manifestation of Lyme disease (LD) [
2
]. However, there is a growing body of evidence that the earlier stage of the infection frequently tends to remain asymptomatic and arthritis is becoming the presenting manifestation of the disease [
3
].
Steere et al. were the first to describe LD in Lyme, Connecticut, the United States, in patients initially suspected of juvenile idiopathic arthritis (JIA) [
4
]. Thorough diagnostic process in the aforementioned group revealed that reported episodes of arthritis were provoked by a novel infectious trigger [
5
]. To date, there are 20 identified genospecies of
B. burgdorferi sensu lato
[
6
]. Nine of them infect humans:
B. burgdorferi sensu stricto, B. garinii, B. afzelii, B. bavariensis, B. bissetii, B. kurtenbachii, B. lusitaniae, B. spielmanii, B. valaesiana
[
7
]. The highest arthrogenic potential is presented by
B. burgdorferi sensu stricto
[
8
]. It induced arthritis in 46% of infected patients in the United States observed by Cerar et al. [
9
]. Its immunogenicity plays a crucial role in differences in clinical course of spirochetal infection between the United States, where
B. burgdorferi sensu stricto
is the main etiological factor of LD [
10
], and Europe, which is dominated by two other genospecies:
B. garinii
and
B. afzelii
[
11
]. As reported by Cerar et al. who assessed clinical images of LD in Slovenia, patients infected with
B. garinii
and
B. afzelii
developed arthritis in 18 and 15%, respectively [
9
]. According to Kocbach et al.,
B. garinii
infection frequently produces neurological symptoms and patients infected with
B. afzelii
regularly present with fatigue and myalgia [
8
].
Epidemiology
Clinical features
Spirochetal factors of inflammation
Immunological background
Diagnostics
Treatment
Conclusions
The clinical picture of LA resembles a classic autoimmune arthritis, similar to other rheumatoid disease, with immunomodulation and tissue damage. The active infection requiring antibiotic treatment is a factor that constitutes the essential difference. As a single-centre experience, the authors recommend ELISA screening in all patients suspected with JIA in regions endemic for LD. As WB confirmation may be time-consuming, simultaneous two-tier testing is advisable when patient's history suggests a possibility of potential tick bite.
New diagnostic approaches should be elaborated on to evaluate their relevance. The assessment of the C6 antibody test in children is particularly essential for the future progress in diagnostic process and therapy.
Development of consistent worldwide guidelines would simplify diagnostic process in everyday pediatric practice.
Acknowledgements
Not applicable
Funding
This work was partially the grant from Medical University of Lodz, Poland No. 502-03/8-000/01/502-64-094.
Availability of data and materials
Not applicable.
Authors' contributions
KO and JSJ collected literature and prepared manuscript with equal contribution. ES supervised the content of the manuscript and provided images. All authors read and approved the final manuscript.
Competing interests
The authors declare that they have no competing interests.
Consent for publication
Authors obtained parents' consent for publication of images.
Ethics approval and consent to participate
Not applicable.
Publisher's Note
Springer Nature remains neutral with regard to jurisdictional claims in published maps and institutional affiliations.
Open Access
This article is distributed under the terms of the Creative Commons Attribution 4.0 International License (
http://​creativecommons.​org/​licenses/​by/​4.​0/​
), which permits unrestricted use, distribution, and reproduction in any medium, provided you give appropriate credit to the original author(s) and the source, provide a link to the Creative Commons license, and indicate if changes were made. The Creative Commons Public Domain Dedication waiver (
http://​creativecommons.​org/​publicdomain/​zero/​1.​0/​
) applies to the data made available in this article, unless otherwise stated.