01.12.2017 | Review | Ausgabe 1/2017 Open Access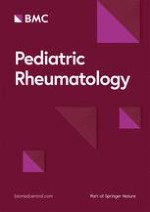 When a patient suspected with juvenile idiopathic arthritis turns out to be diagnosed with an infectious disease – a review of Lyme arthritis in children
Zeitschrift:
Autoren:

Krzysztof Orczyk, Joanna Świdrowska-Jaros, Elżbieta Smolewska
Abbreviations
CDC
The centers for disease control and prevention
DMARDs
Disease modifying antirheumatic drugs
ECGF
Endothelial cell growth factor
ELISA
Enzyme-linked immunosorbent assay
HLA-DR
Human leukocyte antigen-D-related
IDSA
Infectious diseases society of America
JIA
Juvenile idiopathic arthritis
NapA
Neutrophil activating protein A
NSAIDs
Non-steroidal anti-inflammatory drugs
PCR
Polymerase chain reaction
TNF-α
Tumor necrosis factor alpha
VlsE
Vmp-like sequence lipoprotein E
Background
Lyme arthritis (LA) is a feature of late stage infection with the tick-borne spirochete,
Borrelia burgdorferi (B. burgdorferi)
. It usually occurs weeks to months after the initial tick bite and may be preceded by erythema migrans (EM) [
1
]. This erythematous patch with a characteristic central clearing forming a typical "bull's eye lesion" is considered to be a pathognomonic manifestation of Lyme disease (LD) [
2
]. However, there is a growing body of evidence that the earlier stage of the infection frequently tends to remain asymptomatic and arthritis is becoming the presenting manifestation of the disease [
3
].
Steere et al. were the first to describe LD in Lyme, Connecticut, the United States, in patients initially suspected of juvenile idiopathic arthritis (JIA) [
4
]. Thorough diagnostic process in the aforementioned group revealed that reported episodes of arthritis were provoked by a novel infectious trigger [
5
]. To date, there are 20 identified genospecies of
B. burgdorferi sensu lato
[
6
]. Nine of them infect humans:
B. burgdorferi sensu stricto, B. garinii, B. afzelii, B. bavariensis, B. bissetii, B. kurtenbachii, B. lusitaniae, B. spielmanii, B. valaesiana
[
7
]. The highest arthrogenic potential is presented by
B. burgdorferi sensu stricto
[
8
]. It induced arthritis in 46% of infected patients in the United States observed by Cerar et al. [
9
]. Its immunogenicity plays a crucial role in differences in clinical course of spirochetal infection between the United States, where
B. burgdorferi sensu stricto
is the main etiological factor of LD [
10
], and Europe, which is dominated by two other genospecies:
B. garinii
and
B. afzelii
[
11
]. As reported by Cerar et al. who assessed clinical images of LD in Slovenia, patients infected with
B. garinii
and
B. afzelii
developed arthritis in 18 and 15%, respectively [
9
]. According to Kocbach et al.,
B. garinii
infection frequently produces neurological symptoms and patients infected with
B. afzelii
regularly present with fatigue and myalgia [
8
].
Epidemiology
Clinical features
EM (Fig.
1
), a characteristic sign mentioned above as a common initial manifestation of
B. burgdorferi
infection, is frequently accompanied, or sometimes preceded, by systemic symptoms, in particular fatigue, fever, headache, stiff neck, myalgias, arthralgias, nausea and dysesthesia [
29
]. However, according to Glaude et al., the majority (72%) of patients observed in Canada had arthritis as their first symptom of LD. 76% of patients did not recall a tick bite, and only 18% of patients had previous EM [
30
].
×
In patients who developed EM, arthralgias appeared 1 day to 8 weeks after onset of rash in a study of 55 patients performed by Steere et al. [
31
]. When EM is absent, symptoms of LA may occur months or even years after initial tick bite [
32
]. Therefore, it can be manifested in every month of the year, not only within time of increased outdoor activity [
33
]. In accordance with aforementioned diversity of genospecies, LA observed in Europe (caused mainly by
B. garinii
and
B. afzelii)
tends to occur in shorter period after initial tick bite comparing to
B. burgdorferi sensu stricto
infections [
9
].
On clinical presentation, LA usually affects large synovial joints asymmetrically [
34
]. Recurrent swelling of the affected joint with a presence of moderate inflammatory effusion is a common clinical finding in children suspected of LA [
35
]. Although more acute presentation may mimic septic arthritis, pain of the affected joints reported in patients with LA is usually less severe [
27
]. All patients reported by Huppertz et al. experienced joint swelling or limitation of range of motion, but no pain [
36
]. Additionally, 38% of patients assessed by Thompson et al. were incapable of bearing weight on the affected limb [
37
].
The knee is affected (Fig.
2
) in over 90% of cases [
38
]. The ankle is found to be the second most commonly involved joint [
38
]. Correspondingly, the clinical image can resemble a mono- or oligoarticular JIA. Still, polyarticular involvement should not automatically exclude LA. Sá et al. reported a case of a 6-year-old girl with serological confirmation of spirochetal infection who developed swelling of the proximal inter-phalangeal joints of hands and wrist and both tibiotarsal joints within several months after initial tick bite and was finally diagnosed with polyarticular JIA [
39
].
×
LA that does not recover during first 3 months after initiation of recommended treatment regimens (described below) has been referred to as antibiotic-refractory LA [
36
,
40
]. In a study published by Tory et al. 23% of pediatric patients had persistent synovitis after 8 weeks of oral antibiotic therapy or 4 weeks of intravenous therapy or both [
41
]. LA eventually resolves spontaneously, but this may take even 8 years in extreme cases [
42
].
Spirochetal factors of inflammation
Immunological background
Presence of spirochetes at synovial sites triggers development of joint inflammation (Fig.
3
) characterized by effusion dominated with neutrophils. As they bind spirochetal lipoprotein to Toll-like receptor 2 [
55
], neutrophils produce proinflammatory cytokines: IL-1, TNF-α, IL-8 and IL-15 [
49
]. They can also eliminate spirochetes through phagocytosis [
56
].
×
Additionally, spirochetal stimulation of macrophages results in release of proinflammatory mediators typical for M1 macrophages, namely: TNF-α, IL-1β, IL-12, IL-18 and nitric oxide [
57
].
Subsequently, development of joint inflammation involves Th1 lymphocytes. Activated T lymphocytes from LD patients produce IFN-γ following
ex vivo
stimulation with
B. burgdorferi
constituents [
58
]. In addition, IFN-γ and IFN-responsive genes are expressed in the joints of
B. burgdorferi
-infected mice [
59
,
60
]. Surprisingly, the levels of IFN-γ did not correlate with the severity of other symptoms in a study performed by Callister et al. [
61
].
Zeidner et al. found that treating mice with the Th1-associated cytokines TNF-α and IFN-γ during tick feeding provided a 95 and 55% protection rate against transmission, respectively [
62
].
Th1-related inflammation is not the only possible immunological route of developing LA.
B. burgdorferi
has been shown to be a strong inducer of IL-10 which inhibits Th1 activity and may contribute to the immune tolerance of the microbe [
63
].
Several studies reviewed by Kuo et al. showed that arthritis observed in IFN-γ-deficient mice was dependent on IL-17 [
64
]. Infante-Duarte et al. reported compatible results in humans [
65
]. However, Bachmann et al. did not observe production of IL-17 by
B. burgdorferi
-stimulated human peripheral blood mononuclear cells [
66
].
Production of IL-17, as well as another Th17-supporting cytokine, IL-23, is induced by borrelial neutrophil activating protein A (NapA) [
67
]. There is mounting evidence that levels of these cytokines tend to be elevated in patients with severe, persisting symptoms, namely in antibiotic-refractory LA [
67
,
68
].
Patients with LA have also high frequencies of CD56bright natural killer (NK) cells in synovial fluid [
69
]. It has been suggested that CD56bright NK cells may either exacerbate or regulate immune responses [
70
]. Presence of CD56bright NK cells producing IFN-γ in synovial fluid suggests that these cells contribute to elimination of spirochetes [
52
]. Barthold et al. reported less severe LA in mice genetically deficient in granulocytes and NK cells [
71
].
FoxP3+ regulatory T cells in synovial fluid also play a role in LA [
72
]. Low frequencies of FoxP3+ regulatory T cells in synovial fluid lead to slower arthritis resolution [
73
,
74
].
The progression into antibiotic-refractory LA is presumably independent of persistent spirochetal infection. Underlying autoimmune background has been postulated by Steere et al. [
75
]. There are seven human leukocyte antigen-D-related (HLA-DR) alleles identified, including the DRB1*0101, 0401 and 1501 alleles, that are predominant in patients with antibiotic-refractory patients [
76
]. Moreover, Arvikar et al. listed 4 Lyme-associated autoantigens that are more frequent in the aforementioned group [
77
]. They include: endothelial cell growth factor (ECGF), apolipoprotein B-100 (apoB-100), matrix metalloproteinase-10 (MMP-10) and annexin-A2. Of these, only the response to annexin-A2 is not LA-specific, as it is elevated in both LA and RA [
78
].
Diagnostics
Treatment
Conclusions
The clinical picture of LA resembles a classic autoimmune arthritis, similar to other rheumatoid disease, with immunomodulation and tissue damage. The active infection requiring antibiotic treatment is a factor that constitutes the essential difference. As a single-centre experience, the authors recommend ELISA screening in all patients suspected with JIA in regions endemic for LD. As WB confirmation may be time-consuming, simultaneous two-tier testing is advisable when patient's history suggests a possibility of potential tick bite.
New diagnostic approaches should be elaborated on to evaluate their relevance. The assessment of the C6 antibody test in children is particularly essential for the future progress in diagnostic process and therapy.
Development of consistent worldwide guidelines would simplify diagnostic process in everyday pediatric practice.
Acknowledgements
Not applicable
Funding
This work was partially the grant from Medical University of Lodz, Poland No. 502-03/8-000/01/502-64-094.
Availability of data and materials
Not applicable.
Authors' contributions
KO and JSJ collected literature and prepared manuscript with equal contribution. ES supervised the content of the manuscript and provided images. All authors read and approved the final manuscript.
Competing interests
The authors declare that they have no competing interests.
Consent for publication
Authors obtained parents' consent for publication of images.
Ethics approval and consent to participate
Not applicable.
Publisher's Note
Springer Nature remains neutral with regard to jurisdictional claims in published maps and institutional affiliations.
Open Access
This article is distributed under the terms of the Creative Commons Attribution 4.0 International License (
http://​creativecommons.​org/​licenses/​by/​4.​0/​
), which permits unrestricted use, distribution, and reproduction in any medium, provided you give appropriate credit to the original author(s) and the source, provide a link to the Creative Commons license, and indicate if changes were made. The Creative Commons Public Domain Dedication waiver (
http://​creativecommons.​org/​publicdomain/​zero/​1.​0/​
) applies to the data made available in this article, unless otherwise stated.