01.03.2018 | Leukemia (PH Wiernik, Section Editor) | Ausgabe 3/2018 Open Access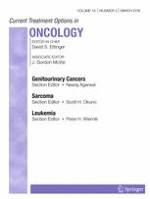 When to Stop Tyrosine Kinase Inhibitors for the Treatment of Chronic Myeloid Leukemia
Zeitschrift:
Autor:

MD Pierre Laneuville
Wichtige Hinweise
This article is part of the Topical Collection on
Leukemia
Opinion statement
Strict criteria for when to stop tyrosine kinase inhibitor (TKI) therapy in clinical practice are not easily defined without an agreement on what probability of achieving a treatment-free remission (TFR) constitutes a medically acceptable standard and consideration of the potential medical risks of continued TKI therapy and/or patient preferences. Patients in sustained deep molecular response (DMR) have no significant chronic myelogenous leukemia-related risk of progression and death, and thus, safety is of paramount importance. Patients with prior history of advanced disease, additional chromosomal abnormalities (ACA), atypical transcripts, TKI resistance, high Sokal score, or who cannot be relied upon to come for regular molecular monitoring should generally be excluded from TKI cessation in clinical practice. Similarly, stopping TKIs should not be attempted without the availability of standardized
BCR-ABL1
testing with a sensitivity of at least MR4.5 and a turnaround time of less than 4 weeks. Prior TKI therapy of 5 years and stable MR4.0 of 2 years or more constitutes reasonable minimal criteria for stopping TKIs with approximately a 50% chance of success. The risk of morbidity with continued TKI therapy and patient preferences need to be considered to determine to what extent these minimal criteria should be exceeded and at what threshold to re-initiate therapy whether on the loss of major molecular response or at a lower molecular endpoint.