01.12.2015 | Research article | Ausgabe 1/2015 Open Access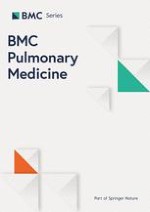 Whey peptide-based enteral diet attenuated elastase-induced emphysema with increase in short chain fatty acids in mice
Zeitschrift:
Autoren:

Koichi Tomoda, Kaoru Kubo, Kazuo Dairiki, Taketo Yamaji, Yoshifumi Yamamoto, Yasue Nishii, Atsuhiro Nakamura, Masanori Yoshikawa, Kaoru Hamada, Hiroshi Kimura
Wichtige Hinweise
Competing interests
The authors declare that they have no competing interests.
Authors' contributions
KT conceived the study and design. KK, YY, YN and AN participated in animal experiment. KD and TY participated in measurement of SCFA. MY, KH and HK contributed to the analysis and wrote the manuscript. All authors read and approved the final manuscript.
Abstract
Background
Systemic inflammation is present in chronic obstructive pulmonary disease (COPD). A whey peptide-based enteral diet reduce inflammation in patients with COPD, but its effect on COPD development has not been determined. On the other hand, it is known that short chain fatty acids (SCFAs), which are produced by micro-flora in the gut, attenuates bronchial asthma in mice model.
Methods
Mice with elastase-induced emphysema were fed with 1 of 3 diets (control diet, whey peptide-based enteral diet, or standard enteral diet) to determine the effects of whey peptide-based enteral diet on emphysema and on cecal SCFAs.
Results
The whey peptide-based enteral diet group exhibited fewer emphysematous changes; significantly lower total cell counts in bronchoalveolar lavage fluid (BALF); and significantly higher cecal SCFA levels than either the control or standard enteral diet groups. The total cell count was inversely correlated with total cecal SCFA levels in these three diet groups.
Conclusions
The whey peptide-based enteral diet attenuates elastase-induced emphysema through the suppression of inflammation in the lung. This may be related to the increase in cecal SCFA.