01.12.2016 | Research article | Ausgabe 1/2016 Open Access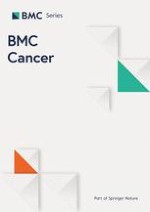 Which is better for gastric cancer patients, perioperative or adjuvant chemotherapy: a meta-analysis
Zeitschrift:
Autoren:

Jun-hua Zhao, Peng Gao, Yong-xi Song, Jing-xu Sun, Xiao-wan Chen, Bin Ma, Yu-chong Yang, Zhen-ning Wang
Wichtige Hinweise
Electronic supplementary material
The online version of this article (doi:
10.​1186/​s12885-016-2667-5
) contains supplementary material, which is available to authorized users.
Abbreviations
CCTs
Clinical Controlled Trials
PC
Perioperative Chemotherapy
RCTs
Randomized Controlled Trials
Background
Gastric cancer (GC) is the fourth most common cancer and the second leading cause of cancer-related deaths worldwide [
1
,
2
]. To date, surgery is the only curative treatment for GC. However, the results are still unsatisfactory, owing to the high rate of metastasis and relapse [
1
,
3
].
Chemotherapy together with surgery has shown promising results. For instance, a randomized controlled trial conducted by Cunningham et al. [
4
] showed that perioperative chemotherapy (PC) could result in better survival than surgery alone. Similarly, Bang et al. [
5
] showed that adjuvant chemotherapy (AC) could improve survival over surgery alone. However, the method of delivery of chemotherapy for GC is still a matter of debate. PC consists of preoperative (neoadjuvant) chemotherapy and postoperative chemotherapy, and is provided as standard of care in NCCN guideline for GC. At the same time, the application of AC is limited to situations where neoadjuvant therapy had not been given prior to surgery [
6
]. However chemotherapy given prior to surgery may reduce tumor burden and eradicate micrometastatic foci outside the surgical field [
7
,
8
]. Several studies have emphasized the survival benefits of PC to the patients [
9
,
10
]. However, chemortherapy given prior to surgery can cause fibrosis and tissue edema, which may cause difficulties during surgery [
11
], causing adverse effects to the patients [
12
,
13
]. Therefore, we performed a meta-analysis to compare the prognostic value, side effects, and post-operative complications of PC and AC in patients with GC.
Methods
Search strategy
Studies were selected by searching major medical databases (PubMed, EMBASE, Cochrane Library, and Ovid) for all articles published until February 1, 2016. We used the following keywords: "neoadjuvant", "preoperative", "perioperative", "chemotherapy", "stomach neoplasm", "gastric cancer", and "gastrectomy" Then, we narrowed the search by browsing the abstracts, methods, and references of the articles retrieved.
Inclusion and exclusion criteria
The studies that met the following criteria were included: (i) publications that compared PC with AC in patients with GC undergoing surgery; (ii) the full text of the articles was available, with a clear description of the chemotherapy regimens used in the study; (iii) at least one of the outcome measures mentioned below was reported or could be calculated from the data provided. In cases of overlap between authors or institutions, only the higher-quality or more recent study was selected. Studies were excluded for the following reasons: (i) PC and AC were not compared in the patients with GC; (ii) post-operative chemotherapy was not applied in either the PC or AC groups; (iii) radiotherapy was part of treatment.
Outcome measures, data extraction, and assessment of the risk of bias
The primary outcomes were prognostic value (hazard ratio [HR] for overall survival [OS] and 1-, 2-, 3-, and 5-year survival rate), response rate of chemotherapy (response rate: complete response [CR] or partial response [PR] after chemotherapy), radical resection rate; total post-operative complication rate (defined on the basis of the system for reporting complications established by the Memorial Sloan-Kettering Cancer Center [
14
]), and the adverse effects of chemotherapy. Two authors independently extracted data from full-text articles using a unified datasheet. Randomized controlled trials (RCTs) were evaluated using the Jadad Composite Scale (JCS), wherein high-quality trials should score ≥ 3 of a maximum possible score of 5. Controlled clinical trials (CCTs) were evaluated using the Newcastle–Ottawa Scale [
15
], wherein high-quality trials should score ≥ 7 of a maximum possible score of 9, and moderate-quality trials should score ≥ 5. Disagreements were presented to a third author and resolved by discussions among the investigators.
Statistical analysis
This meta-analysis was conducted using RevMan software version 5.2 (Cochrane Collaboration). The risk ratio (RR) and HR were used to evaluate the prognostic effect. If the HR and its variance were not reported directly in the original study, these values were calculated using a software designed by Tierney et al. [
16
]. For HR, we performed subgroup analysis based on available method, such as study design, NAC regimen, et al. In addition, the RR was used to analyze other discontinuous variables. Both ratios were reported with 95 % confidence intervals (CIs). Heterogeneity was determined using the
χ
2
test or Cochran Q test. I
2
was used to quantify heterogeneity.
P
 < 0.10 and I
2
 > 50 % indicated significant heterogeneity. The inverse variance method with a fixed-effects model was applied when heterogeneity was not found, whereas the random-effects model was used when heterogeneity was found. Publication bias was tested using funnel plots.
P
 < 0.05 was considered significant when measuring the effect sizes. This manuscript reporting adheres to PRISMA guidelines for reporting systematic reviews and meta-analyses.
Results
Discussion
Conclusion
Perioperative chemotherapy provides a survival advantage over adjuvant chemotherapy for GC patients, especially for the patients with advanced GC. In addition, combination chemotherapy is a better option for neoadjuvant chemotherapy regimen over monotherapy.
Acknowledgments
We thank the department of Surgical Oncology of First Hospital of China Medical University and the College of China Medical University for technical assistance.
Funding
This work was supported by Natural Science Foundation of Liaoning Province (No. 2014029201), Program of Education Department of Liaoning Province (L2014307), the Key Laboratory Programme of Education Department of Liaoning Province (LZ2015076).
Availability of data and materials
The datasets supporting the conclusions of this article are included within the article and its additional files.
Authors' contributions
JZ and PG contributed equally to this work. ZW participated in the conception and design of the study and coordination; JZ and XC participated in design of the study, data extraction, article selection and manuscript preparation and interpreted the results in collaboration with BM and YS; YY and JS participated in data extraction, article selection and data extraction; PG performed the statistical analysis and participated in the critical revision of the manuscript. All authors drafted and critically revised the manuscript and approved the final version.
Competing interests
All the authors declare that they have no competing interests. And our manuscript has not been published previously and is not under consideration by any other publications.
Consent for publication
Not applicable.
Ethics approval and consent to participate
Not applicable.
Open Access
This article is distributed under the terms of the Creative Commons Attribution 4.0 International License (
http://​creativecommons.​org/​licenses/​by/​4.​0/​
), which permits unrestricted use, distribution, and reproduction in any medium, provided you give appropriate credit to the original author(s) and the source, provide a link to the Creative Commons license, and indicate if changes were made. The Creative Commons Public Domain Dedication waiver (
http://​creativecommons.​org/​publicdomain/​zero/​1.​0/​
) applies to the data made available in this article, unless otherwise stated.