01.04.2015 | Symposium: 2014 Bernese Hip Symposium | Ausgabe 4/2015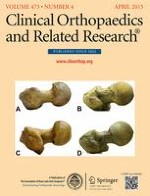 Which Radiographic Hip Parameters Do Not Have to Be Corrected for Pelvic Rotation and Tilt?
Zeitschrift:
Autoren:

MD Moritz Tannast, MD Stefan Fritsch, PhD Guoyan Zheng, MD Klaus A. Siebenrock, MD Simon D. Steppacher
Wichtige Hinweise
One of the authors (MT) has received funding from the Swiss National Science Foundation (SNSF).
All ICMJE Conflict of Interest Forms for authors and
Clinical Orthopaedics and Related Research
®
editors and board members are on file with the publication and can be viewed on request.
Clinical Orthopaedics and Related Research
®
neither advocates nor endorses the use of any treatment, drug, or device. Readers are encouraged to always seek additional information, including FDA-approval status, of any drug or device prior to clinical use.
Each author certifies that his or her institution approved the human protocol for this investigation, that all investigations were conducted in conformity with ethical principles of research, and that informed consent for participation in the study was obtained.
Abstract
Background
Acetabular anatomy on AP pelvic radiographs depends on pelvic orientation during radiograph acquisition. However, not all parameters may change to a clinically relevant degree with differences in pelvic orientation. This issue may influence the diagnosis of acetabular pathologies and planning of corrective acetabular surgery (reorientation or rim trimming). However, to this point, it has not been well characterized.
Questions/purposes
We asked (1) which radiographic parameters change in a clinical setting when normalized to neutral pelvic orientation; (2) which parameters do not change in an experimental setting when the pelvis is experimentally rotated/tilted; and (3) which of these changes are "ultimately" relevant based on a prespecified definition of relevance.
Methods
In a clinical setup, 11 hip parameters were evaluated in 101 patients (126 hips) by two observers and the interobserver difference was calculated. All parameters were normalized to an anatomically defined neutral pelvic orientation with the help of a lateral pelvic radiograph and specific software. Differences between nonnormalized and normalized values were calculated (effect of normalization). In an experimental setup involving 20 cadaver pelves (40 hips), the maximum range for each parameter was computed with the pelvis rotated (range, −12° to 12°) and tilted (range, −24° to 24°). "Ultimately" relevant changes existed if the effect of normalization exceeded the interobserver difference (eg, 37% versus 6% for prevalence of a positive crossover sign) and/or the maximum experimental range exceeded 1 SD of interobserver difference (eg, 27% versus 6% for anterior acetabular coverage).
Results
In the clinical setup, all parameters except the ACM angle and craniocaudal acetabular coverage changed when being normalized, eg, effect of normalization for lateral center-edge angle, acetabular index, and sharp angle ranged from −5° to 4° (p values < 0.029). In the experimental setup, five parameters showed no major changes, whereas six parameters did change (all p values < 0.001). Ultimately relevant changes were found for anteroposterior acetabular coverage, retroversion index, and prevalence of a positive crossover or posterior wall sign.
Conclusions
Lateral center-edge angle, ACM angle, Sharp angle, acetabular and extrusion index, and craniocaudal acetabular coverage showed no relevant changes with varying pelvic orientation and can therefore be acquired independent from individual pelvic tilt and rotation in clinical practice. In contrast, anteroposterior acetabular coverage, crossover and posterior wall sign, and retroversion index call for specific efforts that address individual pelvic orientation such as computer-assisted evaluation of radiographs.
Level of Evidence
Level III, diagnostic study. See the Guidelines for Authors for a complete description of levels of evidence.