18.08.2017 | Otology | Ausgabe 10/2017 Open Access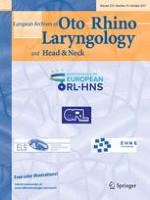 Whole-exome sequencing to identify the cause of congenital sensorineural hearing loss in carriers of a heterozygous
GJB2

mutation
Zeitschrift:
Autoren:

Thomas Parzefall, Alexandra Frohne, Martin Koenighofer, Andreas Kirchnawy, Berthold Streubel, Christian Schoefer, Klemens Frei, Trevor Lucas
Abstract
Bi-allelic variations in the gap junction protein beta-2 (
GJB2
) gene cause up to 50% of cases of newborn hearing loss. Heterozygous pathogenic
GJB2
variations are also fivefold overrepresented in idiopathic patient groups compared to the normal-hearing population. Whether hearing loss in this group is due to unidentified additional variations within
GJB2
or variations in other deafness genes is unknown in most cases. Whole-exome sequencing offers an effective approach in the search for causative variations in patients with Mendelian diseases. In this prospective genetic cohort study, we initially investigated a family of Turkish origin suffering from congenital autosomal recessive hearing loss. An index patient and his normal-hearing father, both bearing a single heterozygous pathogenic c.262G>T (p.Ala88Ser)
GJB2
transversion as well as the normal-hearing mother were investigated by means of whole-exome sequencing. Subsequently the genetic screening was extended to a hearing-impaired cohort of 24 families of Turkish origin. A homozygous missense c.5492G>T transversion (p.Gly1831Val) in the Myosin 15a gene, previously linked to deafness, was identified as causative in the index family. This very rare variant is not listed in any population in the Genome Aggregation Database. Subsequent screening of index patients from additional families of Turkish origin with recessive hearing loss identified the c.5492G>T variation in an additional family. Whole-exome sequencing may effectively identify the causes of idiopathic hearing loss in patients bearing heterozygous
GJB2
variations.