24.01.2018 | New Technology | Ausgabe 6/2018 Open Access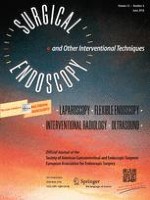 Why laparoscopists may opt for three-dimensional view: a summary of the full HTA report on 3D versus 2D laparoscopy by S.I.C.E. (Società Italiana di Chirurgia Endoscopica e Nuove Tecnologie)
Zeitschrift:
Autoren:

Nereo Vettoretto, Emanuela Foglia, Lucrezia Ferrario, Alberto Arezzo, Roberto Cirocchi, Gianfranco Cocorullo, Giuseppe Currò, Domenico Marchi, Giuseppe Portale, Chiara Gerardi, Umberto Nocco, Michele Tringali, Gabriele Anania, Micaela Piccoli, Gianfranco Silecchia, Mario Morino, Andrea Valeri, Emauele Lettieri
Wichtige Hinweise
Electronic supplementary material
Abstract
Background
Three-dimensional view in laparoscopic general, gynaecologic and urologic surgery is an efficient, safe and sustainable innovation. The present paper is an extract taken from a full health technology assessment report on three-dimensional vision technology compared with standard two-dimensional laparoscopic systems.
Methods
A health technology assessment approach was implemented in order to investigate all the economic, social, ethical and organisational implications related to the adoption of the innovative three-dimensional view. With the support of a multi-disciplinary team, composed of eight experts working in Italian hospitals and Universities, qualitative and quantitative data were collected, by means of literature evidence, validated questionnaire and self-reported interviews, applying a final MCDA quantitative approach, and considering the dimensions resulting from the EUnetHTA Core Model.
Results
From systematic search of literature, we retrieved the following studies: 9 on general surgery, 35 on gynaecology and urology, both concerning clinical setting. Considering simulated setting we included: 8 studies regarding pitfalls and drawbacks, 44 on teaching, 12 on surgeons' confidence and comfort and 34 on surgeons' performances. Three-dimensional laparoscopy was shown to have advantages for both the patients and the surgeons, and is confirmed to be a safe, efficacious and sustainable vision technology.
Conclusions
The objective of the present paper, under the patronage of Italian Society of Endoscopic Surgery, was achieved in that there has now been produced a scientific report, based on a HTA approach, that may be placed in the hands of surgeons and used to support the decision-making process of the health providers.