01.03.2012 | Original Paper | Ausgabe 3/2012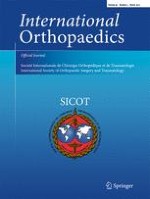 Wide resection of sacral chordoma via a posterior approach
Zeitschrift:
Autoren:

Apichat Asavamongkolkul, Saranatra Waikakul
Abstract
Purpose
The study was carried out to report the results of wide resection in sacral chordoma using a posterior approach and gauze packing technique.
Materials and methods
The study was carried out between 1990 and 2002; there were 21 patients who underwent the operation. Fourteen patients were male and seven were female. Their ages ranged between 29 and 75 years. Most of the patients presented with sacral mass, pain and neurological deficit. Total sacrectomy and bone reconstruction were carried out in 12 patients. Subtotal sacrectomy was carried out in the remaining nine patients. All patients were followed up for at least seven years.
Results
All survived after the operation. Operative time ranged between five and ten hours. All patients needed blood transfusion which ranged between four and 11 units. After the operation, all patients had a certain degree of bowel and bladder dysfunction. Five patients had local complications including infection in three patients with wound disruption and two patients with a seroma. During the follow-up, three patients (14%) had tumour recurrence and one of the patients expired. The remaining 18 patients were still tumour-free at the seven-year follow-up.
Conclusion
Wide resection via the posterior approach and gauze packing technique could be used for management of sacral chordoma with acceptable results.