01.07.2016 | Economics and Policy in Diabetes (ES Huang and AA Baig, Section Editors) | Ausgabe 7/2016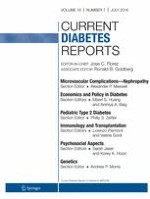 Will the Affordable Care Act (ACA) Improve Racial/Ethnic Disparity of Eye Examination Among US Working-Age Population with Diabetes?
Zeitschrift:
Autoren:

Qian Shi, Vivian Fonseca, Marie Krousel-Wood, Yingnan Zhao, Frank P. Nellans, Qingyang Luo, Lizheng Shi
Wichtige Hinweise
This article is part of the Topical Collection on
Economics and Policy in Diabetes
Abstract
This study aimed to examine the racial/ethnic disparity of eye examination rates among US adults with diabetes before and after the ACA. Working-age adults (18–64 years) with diabetes for years 2014–2017 were simulated by bootstrapping from the working-age diabetes patient sample of Medical Expenditure Panel Survey (MEPS) Household Component 2011. Insurance coverage rates were separately predicted for each racial/ethnic group based on the Congressional Budgeting Office (CBO) report in 2014 and the proportions of Medicaid eligibility. Eye examination rates were weighted to national estimates and compared between racial/ethnic groups. Confidence intervals were estimated using the bootstrap percentile method. Health insurance coverage after the ACA is projected to increase from 90.23 % in 2011 to 98.33 % in 2014 among non-Hispanic Whites (NHW), reaching 98.96 % in 2017. Minorities are forecasted to have about 15 % expansion of insurance coverage from 2011 (80.65 %) to 2014 (96.00 %), reaching 97.25 % in 2017. In 2011, 63.01 % of NHW had eye examinations with forecasted increase to 65.83 % in 2014 and 66.05 % in 2017, while the eye examination rate in the minorities will increase from 55.75 % in 2011 to 59.23 % in 2014 and remain at 59.48 % in 2017. Therefore, racial disparity in eye examination rates is forecasted to persist (ranging from 6.57 % in 2017 to 6.69 % in 2016). The ACA is projected to improve the eye examination rate along with the expansion in insurance coverage. Although predicted racial/ethnic disparities will improve, some differences will persist. Comprehensive strategies need to be developed to eliminate the disparity.