01.12.2018 | Case report | Ausgabe 1/2018 Open Access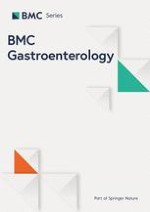 Wirsung atraumatic rupture in patient with pancreatic pseudocysts: a case presentation
Zeitschrift:
Autoren:

Martino Gerosa, Marco Chiarelli, Angelo Guttadauro, Matilde De Simone, Fulvio Tagliabue, Melchiorre Costa, Sabina Terragni, Ugo Cioffi
Abstract
Background
Pancreatic duct disruption is a challenging condition leading to pancreatic juice leakage and consequently to pancreatic fluid collections. The manifestations of pancreatic main duct leak include pseudocysts, walled-off necrosis, pancreatic fistulas, ascites, pleural and pericardial effusions. Pseudocyst formation is the most frequent outcome of a pancreatic duct leak.
Case presentation
We describe a case of a 64-year old man with large multiple pancreatic cysts discovered for progressive jaundice and significant weight loss in the absence of a previous episode of acute pancreatitis. Computed tomography scan showed lesion with thick enhancing walls. The main cyst dislocated the stomach and the duodenum inducing intra and extrahepatic bile ducts enlargement. Magnetic resonance cholangiopancreatography revealed a communication between the main pancreatic duct and the cystic lesions due to Wirsung duct rupture. Endoscopic ultrasound guided fine needle aspiration cytology did not show neoplastic cells and cyst fluid analysis revealed high amylase concentration. Preoperative exams were suggestive but not conclusive for a benign lesion. Laparotomy was necessary to confirm the presence of large communicating pseudocysts whose drainage was performed by cystogastrostomy. Histology confirmed the inflammatory nature of the cyst wall. Subsequently, the patient had progressive jaundice resolution.
Conclusion
Pancreatic cystic masses include several pathological entities, ranging from benign to malignant lesions. Rarely pseudocysts present as complex cystic pancreatic lesions with biliary compression in absence of history of acute pancreatitis. We describe the rare case of multiple pancreatic pseudocysts due to Wirsung duct rupture in absence of previous trauma or acute pancreatitis. Magnetic resonance showed the presence of communication with the main pancreatic duct and endoscopic ultrasound fine needle aspiration suggested the benign nature of the lesion.