01.12.2017 | Review | Ausgabe 1/2017 Open Access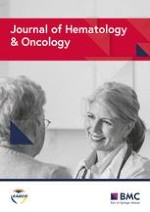 Wnt/beta-catenin pathway: modulating anticancer immune response
Zeitschrift:
Autoren:

Sachin Gopalkrishna Pai, Benedito A. Carneiro, Jose Mauricio Mota, Ricardo Costa, Caio Abner Leite, Romualdo Barroso-Sousa, Jason Benjamin Kaplan, Young Kwang Chae, Francis Joseph Giles
Abbreviations
anti-CTLA4
Anti-cytotoxic T-lymphocyte-associated protein 4
anti-PD-L1
Anti-programmed death ligand-1
APC
Adenomatous polyposis coli
CBP
cAMP response element-binding (CREB)-binding protein
Fzd8
Frizzled family receptor 8
MGMT
O6-methylguanine-DNA methyltransferase
MMTV
Mouse mammary tumor virus
PARsylation
Poly(adenosine diphosphate-ribosyl)ation
PORCN
O
-acyl transferase porcupine
TAM
Tumor-associated macrophage
Background
Nusse and Varmus discovered the components of the Wnt/β-catenin pathway in 1982 while studying oncogenic mechanisms of mouse mammary tumor virus (MMTV) [
1
]. Proviral insertion at the "integration site" was thought to be the mechanism of carcinogenesis, giving the name to the first gene discovered in this pathway as
INT1.
Simultaneous work in developmental biology and work in drosophila established
INT1
gene to be the homologue of the Drosophila segment polarity gene, Wingless [
2
]. Subsequently, human
INT1
was shown to be very similar to mouse
INT1
, thereby revealing the highly conserved nature of this pathway across various species [
3
]. Additional screens for MMTV proviral insertion sites in tumors yielded several other activated genes that are related to other developmental gene pathways, such as
INT2
,
INT3
, and
INT4
[
4
–
6
]. For example,
INT2
is a member of the fibroblast growth factor (FGF; INT2 is the same FGF-3 protein) family, and
INT3
is related to the NOTCH gene family (INT3 protein is the same neurogenic locus notch homologue 4/NOTCH4) [
7
,
8
]. With "INT" nomenclature turning out to be inadequate and confusing, consensus was reached to create the hybrid name "WNT" (for Wingless-related integration site) to denote genes belonging to the INT1/Wingless family.
INT1
—now called
WNT1
—became the founding member [
9
].
WNTs (translated products of
WNT
gene) are cysteine-rich glycoproteins, secreted by cells into the extracellular matrix, that activate receptor-mediated signaling with cells in immediate proximity [
10
]. The WNT protein family consists of at least 19 secreted glycoproteins (350–400 amino acids in length) highly conserved across species from invertebrates to mammals [
11
]. WNT binds to the N-terminal extra-cellular cysteine-rich domain of a Frizzled family receptor, a member of the superfamily of G-protein-coupled receptors. This disrupts the destruction complex of β-catenin (a tertiary complex formed by axin, adenomatous polyposis coli (APC), CK1α, and GSK3β) and triggers the cytoplasmic accumulation of β-catenin (Fig.
1
).
×
T cell factor/lymphoid enhancer factor-1 (TCF/Lef1) is the transcription complex that mediates canonical WNT-triggered gene transcription [
12
,
13
]. β-catenin translocates into the nucleus where it interacts with TCF/Lef1 and activates TCF/Lef1 transcription complex [
14
–
16
]. β-catenin also localizes to multiple subcellular locations including the cytoplasm where its levels are tightly controlled. β-catenin also promotes cell-to-cell adhesion by accumulating in cell–cell contact sites, namely the adherens junctions [
17
,
18
]. Figure
1
illustrates the canonical pathway of Wnt/β-catenin signaling. In addition to classical canonical WNT-induced activation of β-catenin–TCF/Lef1 transcriptional complexes, WNT can elicit alternative responses through β-catenin independent mechanisms which are collectively known as noncanonical pathways [
19
]. In an alternative concept known as integrated Wnt pathway, the canonical and noncanonical pathways are combined and multiple inputs at the level of both Wnt-receptor binding and the downstream, intracellular response have been integrated [
20
].
Wnt/β-catenin pathway is intricately involved in pathogenesis of several cancers. Recent findings of its role in regulating immunomodulation have renewed enthusiasm in the field.
Wnt/β-catenin pathway involvement in several malignancies
WNT inhibitors in clinical development
Cancer immunity and Wnt/β-catenin pathway
Conclusions
The Wnt/β-catenin pathway is increasingly recognized as a potentially important target for anticancer therapies, with several relevant inhibitors at various stages of clinical development. The expanding role of immunotherapies in cancer and recent insight into the role of Wnt-pathway in cancer-related immune-regulation may give a new dimension to this field of developmental therapeutics. Only tumors with upregulated Wnt/β-catenin signaling such as colorectal cancer have been explored as targets for Wnt inhibition. However, with its role in immunomodulation, Wnt inhibitors may have a broader role in cancers such as melanoma, lung, and renal cancers where immunotherapy has come to the forefront. There are some nuances to be addressed in the exact role of Wnt signaling in immunomodulation before this could be adopted in clinical practice.
Acknowledgements
The authors would like to acknowledge the Woman's Board of Northwestern Memorial Hospital
Authors' contributions
SGP, BAC, JMM, and FJG drafted the manuscript. SGP, BAC, JMM, RBS, and JBK performed the search of literature. SGP, RC, CAL, YKC, and JBK collected the related references. SGP, JMM, and CAL prepared the figures. BAC, JBK, RBS, and FJG revised the language. SGP, BAC, YKC, and FJG carried out the design of the review. All authors contributed to this manuscript. All authors read and approved the final manuscript.
Competing interests
The authors declare that they have no competing interests.
Consent for publication
Not applicable
Ethics approval and consent to participate
Not applicable
Publisher's Note
Springer Nature remains neutral with regard to jurisdictional claims in published maps and institutional affiliations.
Open Access
This article is distributed under the terms of the Creative Commons Attribution 4.0 International License (
http://​creativecommons.​org/​licenses/​by/​4.​0/​
), which permits unrestricted use, distribution, and reproduction in any medium, provided you give appropriate credit to the original author(s) and the source, provide a link to the Creative Commons license, and indicate if changes were made. The Creative Commons Public Domain Dedication waiver (
http://​creativecommons.​org/​publicdomain/​zero/​1.​0/​
) applies to the data made available in this article, unless otherwise stated.