01.12.2017 | Research | Ausgabe 1/2017 Open Access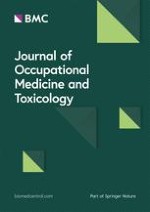 Work related injury among Saudi Star Agro Industry workers in Gambella region, Ethiopia; a cross-sectional study
Zeitschrift:
Autoren:

Daniel Haile Chercos, Demeke Berhanu
Abstract
Background
Work injury is an important cause of morbidity and mortality, much of these work injuries burden can be found in industry required heavy manual work such as, agriculture and fishers. Hence; agriculture is consistently cited as one of the most hazardous industry in the world. The objective of this study isto assess the magnitude and associated factors of work related injury among Saudi Star Agro Industry workers in Gambella region, South West Ethiopia.
Methods
An institutional based cross-sectional study design was conducted on Saudi Star Agro Industry located in Gambella region, from February - June 2014 on 449 randomly selected workers who arestratifiedby working department. Anobservation checklist, factory clinical records and a structured interview questioner were used as a data collection tools.
Result
The prevalence of work related injury was 36.7%. Marital status [AOR;1.69, 95%; CI;(1.1–2.7)], service year [AOR;1.9,95%; CI;(1.17–3.1)], working more than 48 h per week [AOR;9.87, 95%; CI;(5.95–16.28)],safety training [AOR;3.38, 95%;CI;1.14–9.98)], regular health checkup [AOR; 12.29, 95%; CI (9–51.35)] and usage of personal protective equipment [AOR; 2.36, 95%; CI; (1.06–5.25)] were significant factors for the occurrence of work related injury.
Conclusion
The prevalence of work related injury was high. Working hours, safety training and regular health checkup increases the risk of work related injury.