01.03.2013 | Short Communication | Ausgabe 2/2013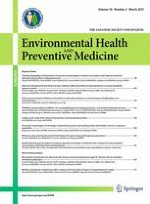 Workers' load and job-related stress after a reform and work system change in a hospital kitchen in Japan
Zeitschrift:
Autoren:

Hiroe Matsuzuki, Yasuo Haruyama, Takashi Muto, Kaoru Aikawa, Akiyoshi Ito, Shizuo Katamoto
Abstract
Objectives
Many kitchen work environments are considered to be severe; however, when kitchens are reformed or work systems are changed, the question of how this influences kitchen workers and environments arises. The purpose of this study is to examine whether there was a change in workload and job-related stress for workers after a workplace environment and work system change in a hospital kitchen.
Methods
The study design is a pre–post comparison of a case, performed in 2006 and 2008. The air temperature and humidity in the workplace were measured. Regarding workload, work hours, fluid loss, heart rate, and amount of activity [metabolic equivalents of task (METs)] of 7 and 8 male subjects pre- and post-reform, respectively, were measured. Job-related stress was assessed using a self-reporting anonymous questionnaire for 53 and 45 workers pre- and post-system change, respectively.
Results
After the reform and work system change, the kitchen space had increased and air-conditioners had been installed. The workplace environment changes included the introduction of temperature-controlled wagons whose operators were limited to male workers. The kitchen air temperature decreased, so fluid loss in the subjects decreased significantly. However, heart rate and METs in the subjects increased significantly. As for job-related stress, although workplace environment scores improved, male workers' total job stress score increased.
Conclusions
These results suggest that not only the workplace environment but also the work system influenced the workload and job stress on workers.