01.12.2018 | Guidelines article | Ausgabe 1/2018 Open Access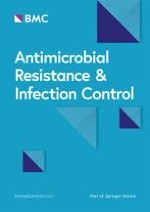 World Health Organization (WHO) guidelines on use of medically important antimicrobials in food-producing animals
Zeitschrift:
Autoren:

Awa Aidara-Kane, Frederick J. Angulo, John M. Conly, Yuki Minato, Ellen K. Silbergeld, Scott A. McEwen, Peter J. Collignon, for the WHO Guideline Development Group
Abstract
Background
Antimicrobial use in food-producing animals selects for antimicrobial resistance that can be transmitted to humans via food or other transmission routes. The World Health Organization (WHO) in 2005 ranked the medical importance of antimicrobials used in humans. In late 2017, to preserve the effectiveness of medically important antimicrobials for humans, WHO released guidelines on use of antimicrobials in food-producing animals that incorporated the latest WHO rankings.
Methods
WHO commissioned systematic reviews and literature reviews, and convened a Guideline Development Group (GDG) of external experts free of unacceptable conflicts-of-interest. The GDG assessed the evidence using the Grading of Recommendations Assessment, Development and Evaluation (GRADE) approach, and formulated recommendations using a structured evidence-to-decision approach that considered the balance of benefits and harms, feasibility, resource implications, and impact on equity. The resulting guidelines were peer-reviewed by an independent External Review Group and approved by the WHO Guidelines Review Committee.
Results
These guidelines recommend reductions in the overall use of medically important antimicrobials in food-producing animals, including complete restriction of use of antimicrobials for growth promotion and for disease prevention (i.e., in healthy animals considered at risk of infection). These guidelines also recommend that antimicrobials identified as critically important for humans not be used in food-producing animals for treatment or disease control unless susceptibility testing demonstrates the drug to be the only treatment option.
Conclusions
To preserve the effectiveness of medically important antimicrobials, veterinarians, farmers, regulatory agencies, and all other stakeholders are urged to adopt these recommendations and work towards implementation of these guidelines.