01.12.2015 | Research article | Ausgabe 1/2015 Open Access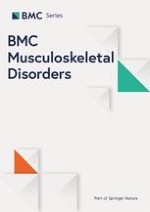 Wrist flexion and extension torques measured by highly sensitive dynamometer in healthy subjects from 5 to 80 years
Zeitschrift:
Autoren:

Valérie Decostre, Aurélie Canal, Gwenn Ollivier, Isabelle Ledoux, Amélie Moraux, Valérie Doppler, Christine Anne Mary Payan, Jean-Yves Hogrel
Wichtige Hinweise
Competing interests
The authors declare that they have no competing interests.
Authors' contributions
VDe performed the statistical analysis and drafted the manuscript, AC and GO performed the measurements and collected results in database, IL developed the dynamometer, AM participated to the analysis, VDo included participants, CP participated to the design of the study, JYH developed the dynamometer, conceived the study, collected data and gave final approval of the version to be published. All authors read and approved the final manuscript.
Abstract
Background
Wrist movements become impaired with disease progression in various neuromuscular disorders. With the development of new therapies, thorough measurement of muscle strength is crucial to document natural disease progression and to assess treatment efficacy. We developed a new dynamometer enabling wrist flexion and extension torque measurement with high sensitivity. The aims of the present study were to collect norms for healthy children and adults, to compute predictive equations, to assess the reliability of the measurements and to test the feasibility of using the device in patients with a neuromuscular disease.
Methods
The peak isometric torque of wrist flexion and extension was measured with the MyoWrist dynamometer in 345 healthy subjects aged between 5 and 80 years old and in 9 patients with limb girdle muscle dystrophy type 2 C (LGMD2C) aged between 16 and 38 years old.
Results
Predictive equations are proposed for the wrist flexion and extension strength in children and adults. Intra-rater and inter-rater reliability was good with ICCs higher than 0.9 for both wrist flexion and extension. However, retest values were significantly higher by 4% than test results. The dynamometer was applied with no difficulty to patients with LGMD2C and was sensitive enough to detect strength as weak as 0.82 N.m. From our models, we quantified the mean strength of wrist extension in LGMD2C patients to 39 ± 17% of their predicted values.
Conclusions
The MyoWrist dynamometer provides reliable and sensitive measurement of both wrist flexion and extension torques. However, a training session is recommended before starting a study as a small but significant learning effect was observed. Strength deficit can be quantified from predictive equations that were computed from norms of healthy children and adults.