01.12.2014 | Research | Ausgabe 1/2014 Open Access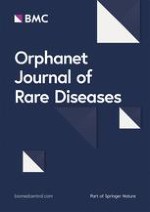 X-exome sequencing in Finnish families with Intellectual Disability - four novel mutations and two novel syndromic phenotypes
Zeitschrift:
Autoren:

Anju K Philips, Auli Sirén, Kristiina Avela, Mirja Somer, Maarit Peippo, Minna Ahvenainen, Fatma Doagu, Maria Arvio, Helena Kääriäinen, Hilde Van Esch, Guy Froyen, Stefan A Haas, Hao Hu, Vera M Kalscheuer, Irma Järvelä
Wichtige Hinweise
Electronic supplementary material
The online version of this article (doi:
10.​1186/​1750-1172-9-49
) contains supplementary material, which is available to authorized users.
Competing interests
We declare that we have no competing interest.
Authors' contributions
IJ conceived the idea of the study. AS, KA, MS, HK, MP and MA were responsible for the clinical diagnosis of the patients. AKP designed the experiments, performed mutation analysis for the families, X-inactivation study and wrote the manuscript. HVE and GF analyzed family L107. FD and MAh were involved in the mutation analysis study of the family D174 and family D172. SAH, HU and VMK performed X-exome sequencing and bioinformatic analysis. All authors contributed to the final manuscript version.
Abstract
Background
X-linked intellectual disability (XLID) is a group of genetically heterogeneous disorders characterized by substantial impairment in cognitive abilities, social and behavioral adaptive skills. Next generation sequencing technologies have become a powerful approach for identifying molecular gene mutations relevant for diagnosis.
Methods & objectives
Enrichment of X-chromosome specific exons and massively parallel sequencing was performed for identifying the causative mutations in 14 Finnish families, each of them having several males affected with intellectual disability of unknown cause.
Results
We found four novel mutations in known XLID genes. Two mutations; one previously reported missense mutation (c.1111C > T), and one novel frameshift mutation (c. 990_991insGCTGC) were identified in
SLC16A2
, a gene that has been linked to Allan-Herndon-Dudley syndrome (AHDS). One novel missense mutation (c.1888G > C) was found in
GRIA3
and two novel splice donor site mutations (c.357 + 1G > C and c.985 + 1G > C) were identified in the
DLG3
gene. One missense mutation (c.1321C > T) was identified in the candidate gene
ZMYM3
in three affected males with a previously unrecognized syndrome characterized by unique facial features, aortic stenosis and hypospadia was detected. All of the identified mutations segregated in the corresponding families and were absent in > 100 Finnish controls and in the publicly available databases. In addition, a previously reported benign variant (c.877G > A) in
SYP
was identified in a large family with nine affected males in three generations, who have a syndromic phenotype.
Conclusions
All of the mutations found in this study are being reported for the first time in Finnish families with several affected male patients whose etiological diagnoses have remained unknown to us, in some families, for more than 30 years. This study illustrates the impact of X-exome sequencing to identify rare gene mutations and the challenges of interpreting the results. Further functional studies are required to confirm the cause of the syndromic phenotypes associated with
ZMYM3
and
SYP
in this study.