01.12.2017 | Research article | Ausgabe 1/2017 Open Access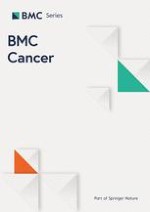 XLF-mediated NHEJ activity in hepatocellular carcinoma therapy resistance
Zeitschrift:
Autoren:

Sitian Yang, Xiao Qi Wang
Wichtige Hinweise
Electronic supplementary material
The online version of this article (doi:
10.​1186/​s12885-017-3345-y
) contains supplementary material, which is available to authorized users.
Abbreviations
ERCC1
excision repair cross-complementing 1
NER
nucleotide excision repair
NHEJ
non-homologous end joining
SSL
synthetic sensitivity or lethality
TACE
transarterial chemoembolization
Background
Methods
Cell culture and drug sensitivity
The HCC cell lines PLC/PRF/5 (ATCC, CRL-8024), Huh7 (provided by Dr. H Nakabayashi, Hokkaido University, Japan), MHCC97 L (97 L) and MHCC97H (97H) (provided by Liver Cancer Institute of Fudan University, China) were cultured in DMEM containing 10% FBS. CD133-PE-labeled Huh7 cells were sorted using magnetic microbeads conjugated to an anti-PE antibody (Miltenyi Biotec. Germany). Sorted CD133+ and CD133− cells were cultured for further experiments. The chemotherapeutic drugs cisplatin (cis, Mayne Pharma, Melbourne, Australia), oxaliplatin (oxa, Jiangsu Hengrui Medicine Co., China), doxorubicin (dox, Main Luck Pharmaceuticals, China), and 5-fluorouacial (5FU, Sigma-Aldrich, St. Louis, MO) were applied to cells, and cell viability was determined by incubation with tetrazolium salt (Cell Counting Kit 8, Dojindo, Japan) and using colony-forming assays.
Transfection
Small interfering RNAs (siRNAs) against human XLF and ERCC1 (Santa Cruz Biotechnology, Dallas, TX) were transfected into 97 L cells using Lipofectamine RNAiMAX (Life Technologies, Carlsbad, CA). Scrambled siRNA was used as a negative control. shRNA against human NHEJ1 and a scrambled control were constructed using a pEco-Lenti-H1-shRNA (GFP) kit (GenTarget Inc., San Diego, CA). Lentivirus particles were produced in 293 T cells using ViraPower Lentiviral Packaging Mix (Life Technologies) and concentrated by ultracentrifugation (20,000 g). 97 L cells were infected with shXLF or shCon lentiviral particles, followed by puromycin selection for 7–10 days.
Antibodies, western blotting, and immunofluorescence
A phospho-histone H2AX (Ser139) (γH2AX) antibody was obtained from Cell Signaling Technology (Beverly, MA). An antibody against Ligase IV was purchased from Santa Cruz Biotechnology (Santa Cruz Biotechnology, Dallas, Texas), and an ERCC1 antibody was purchased from Thermo Fisher Scientific (Waltham, MA). For western blotting (WB), PVDF membranes containing proteins electrophoretically separated from cell lysates were probed with relevant antibodies. The resultant immune complexes were visualized using enhanced chemiluminescence detection reagents (Bio-Rad, Hercules, CA). For immunofluorescence staining, cells were harvested and cyto-spun, followed by fixation with 4% paraformaldehyde. After blocking and permeabilization with 1%BSA/0.3%Triton-X100 in PBS for 1 h, the cells were incubated with anti-γH2AX antibody overnight at 4 °C. A FITC-conjugated secondary antibody (Life Technologies) was utilized to visualize the signal.
Cell-free (in vitro) and living cell (in vivo) NHEJ assays
For the in vitro NHEJ assay, cellular nuclear protein fractions were isolated and applied to repair DNA DSBs in vitro as previously described [
15
]. Briefly, cellular nuclear protein was incubated with linearized plasmid DNA in T4 ligase buffer and 1 mM dNTPs for 2 h at 14 °C. After de-proteinization, the quantity of end-joined DNA products was measured by quantitative PCR with a pair of primers flanked primer-joining junction of the plasmid. Relative NHEJ activity was calculated as the ratio of end-joined products normalized to the loading control. For the in vivo NHEJ assay, the engineered construct pEGFP-PEM1-Ad2 [
16
] was transfected using X-tremeGENE HP reagent (Roche, Hong Kong). The starting construct was GFP-negative, and the successful repair of Hind III-induced DSBs by cellular NHEJ was identified by restored functionality of the GFP gene [
16
]. After transfection, the number of GFP-positive cells was measured by flow cytometry and normalized to the transfection efficiency for in vivo NHEJ activity.
Xenograft tumor model
97 L cells (1 × 10 6) infected with lentiviruses harboring shRNA-XLF or shRNA-scramble were subcutaneously injected into nude mice to generate an HCC xenograft model. Two weeks after tumor cell injection, 4 cycles of oxaliplatin (4–10 mg/kg) were given via weekly intraperitoneal injection. Tumor volumes were measured at the endpoint. Nuclear proteins from the xenograft tumors were extracted to perform cell-free NHEJ assays. All animal experiments were approved by the Committee on the Use of Live Animals of The University of Hong Kong (CULATR 3091–13).
HCC tumor specimens
Tissue specimens were collected from 31 patients with HCC who received transarterial chemoembolization (TACE) as a first treatment followed by a hepatectomy. All patients were treated at Queen Mary Hospital. Tissue specimens were also collected from patients with HCC who underwent hepatectomy as a first treatment. This study was approved by the Institutional Review Board of the University of Hong Kong/Hospital Authority of Hong Kong (UW05–3597/I022). The need for informed consent was waived because the study was retrospective in design.
Statistical analysis
Data are presented as the mean ± SD. Paired and independent Student's t tests were performed using SPSS 21 software (IBM Corp. Armonk, NY). Overall and disease-free survival rates for the included patients were analyzed using the Kaplan-Meier log-rank method.
Results
Discussion
Conclusion
Overexpression of XLF and increased NHEJ activity mediated by XLF in response to treatment with chemotherapeutic drugs contribute to chemoresistance in HCC cells and patients with HCC. Inhibition of XLF-mediated NHEJ activity results in chemosensitization in a HCC xenograft model, suggesting that XLF is a novel candidate for the development of new DNA repair inhibitors for combination therapy.
Acknowledgements
We thank Drs. M. Huen and B. Liu at the University of Hong Kong for providing the suggestions and plasmids.
Funding
This study was supported by the Seed Funding Program for Basic Research, The University of Hong Kong (59,203 to XQW) and partially supported by Healthy and Medical Research Fund, Research Council of Hong Kong (03143396 to XQW). The funding bodies partially support the expenses for the experiments.
Availability of data and materials
The dataset of this article is available at request from the corresponding author.
The dataset of bioinformatic analysis of genomic alterations of the NHEJ pathway, which are assembled by TCGA and AMC, are downloaded from cBioPortal [http://www.cbioportal.org].
Authors' contributions
SY contributed to conception, data collection, and data analysis. XQW contributed to conception, experimental design, data analysis, and writing and finalizing the manuscript. All authors have read and approved the manuscript.
Competing interests
The authors declare that they have no competing interests.
Consent for publication
Not applicable.
Ethics approval and consent to participate
The study has been approved by the Institutional Review Board of the University of Hong Kong/Hospital Authority of Hong Kong (UW05–3597/I022), which is the consent for patients donating clinical specimens before hepatectomy to surgical tissue bank for research purpose at Department of Surgery, The University of Hong Kong. For this retrospective study, the frozen tumor tissue samples were obtained from the tissue bank of Department of Surgery. The mouse experiment was approved by the Committee on the Use of Live Animals of The University of Hong Kong (CULATR 3091–13).
Publisher's Note
Springer Nature remains neutral with regard to jurisdictional claims in published maps and institutional affiliations.
Open Access
This article is distributed under the terms of the Creative Commons Attribution 4.0 International License (
http://​creativecommons.​org/​licenses/​by/​4.​0/​
), which permits unrestricted use, distribution, and reproduction in any medium, provided you give appropriate credit to the original author(s) and the source, provide a link to the Creative Commons license, and indicate if changes were made. The Creative Commons Public Domain Dedication waiver (
http://​creativecommons.​org/​publicdomain/​zero/​1.​0/​
) applies to the data made available in this article, unless otherwise stated.