01.12.2014 | Research | Ausgabe 1/2014 Open Access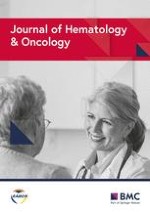 XPO1/CRM1-Selective Inhibitors of Nuclear Export (SINE) reduce tumor spreading and improve overall survival in preclinical models of prostate cancer (PCa)
Zeitschrift:
Autoren:

Giovanni Luca Gravina, Monica Tortoreto, Andrea Mancini, Alessandro Addis, Ernesto Di Cesare, Andrea Lenzi, Yosef Landesman, Dilara McCauley, Michael Kauffman, Sharon Shacham, Nadia Zaffaroni, Claudio Festuccia
Wichtige Hinweise
Electronic supplementary material
The online version of this article (doi:
10.​1186/​1756-8722-7-46
) contains supplementary material, which is available to authorized users.
Competing interests
Yosef Landesman, Dilara McCauley, Michael Kauffman, Sharon Shacham are employees of, and hold equity in, Karyopharm Therapeutics, Natick, MA, USA. The other authors disclosed no potential conflicts of interest.
Authors' contributions
Study conception and design: Dr. CF; Dr. NZ; MK; SS. Acquisition of data: Dr GLG, Dr. MT, Dr. AA; Dr. AM. Analysis and interpretation of data: Dr. CF, Dr. GLG; Dr. YL; Dr. DMcC. Drafting of manuscript: Dr. CF; Dr. GLG. Critical revision: EDC; AL; MK; SS. Grants. The work is partially supported by Karyopharm Therapeutics, Natick, MA, USA. All authors read and approved the final manuscript.
Abstract
Background
Exportin 1 (XPO1), also called chromosome region maintenance 1 (CRM1), is the sole exportin mediating transport of many multiple tumor suppressor proteins out of the nucleus.
Aim and methods
To verify the hypothesis that XPO1 inhibition affects prostate cancer (PCa) metastatic potential, orally available, potent and selective, SINE compounds, Selinexor (KPT- 330) and KPT-251, were tested in preclinical models known to generate bone lesions and systemic tumor spread.
Results
In vitro, Selinexor reduced both secretion of proteases and ability to migrate and invade of PCa cells. SINEs impaired secretion of pro-angiogenic and pro-osteolytic cytokines and reduced osteoclastogenesis in RAW264.7 cells. In the intra-prostatic growth model, Selinexor reduced DU145 tumor growth by 41% and 61% at the doses of 4 mg/Kg qd/5 days and 10 mg/Kg q2dx3 weeks, respectively, as well as the incidence of macroscopic visceral metastases. In a systemic metastasis model, following intracardiac injection of PCb2 cells, 80% (8/10) of controls, 10% (1/10) Selinexor- and 20% (2/10) KPT-251-treated animals developed radiographic evidence of lytic bone lesions. Similarly, after intra-tibial injection, the lytic areas were higher in controls than in Selinexor and KPT-251 groups. Analogously, the serum levels of osteoclast markers (mTRAP and type I collagen fragment, CTX), were significantly higher in controls than in Selinexor- and KPT-251-treated animals. Importantly, overall survival and disease-free survival were significantly higher in Selinexor- and KPT-251-treated animals when compared to controls.
Conclusions
Selective blockade of XPO1-dependent nuclear export represents a completely novel approach for the treatment of advanced and metastatic PCa.