01.12.2015 | Research article | Ausgabe 1/2015 Open Access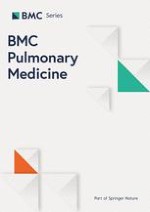 Y-27632 is associated with corticosteroid-potentiated control of pulmonary remodeling and inflammation in guinea pigs with chronic allergic inflammation
Zeitschrift:
Autoren:

Patricia Angeli Pigati, Renato Fraga Righetti, Samantha Souza Possa, Beatriz Saraiva Romanholo, Adriana Palmeira Dias Rodrigues, Anelize Sartori Alves dos Santos, Débora Gonçalves Xisto, Mariana Alves Antunes, Carla Máximo Prado, Edna Aparecida Leick, Milton de Arruda Martins, Patrícia Rieken Macedo Rocco, Iolanda de Fátima Lopes Calvo Tibério
Wichtige Hinweise
Competing interests
The authors declare that they have no competing interests.
Authors' contributions
PAP designed and performed the major part of the experiments and the morphometric analysis, performed the statistical analysis and drafted the manuscript. RFR, SSP, BMSR, ASAS, DGX, and MAA assisted in performing the experiments. APDR participated in some of the experiments and contributed to the morphometric analysis. CMP, EAL, PRMR, and MAM participated in the design of the study. IFLCT supervised the study, participated in its design, and interpreted the results, as well as prepared the manuscript. All authors have read and approved the final manuscript.
Abstract
Background
Previously, we showed that treatment with the Rho-kinase inhibitor Y-27632 was able to control airway responsiveness, inflammation, remodeling, and oxidative stress in an animal model of asthma, suggesting that this drug is beneficial in asthma. However, studies evaluating the effects of these inhibitors in conjunction with corticosteroids on chronic pulmonary inflammation have not been conducted. Therefore, we evaluated the effects of treatment with the Rho-kinase inhibitor Y-27632, with or without concurrent dexamethasone treatment, on airway and lung tissue mechanical responses, inflammation, extracellular matrix remodeling, and oxidative stress in guinea pigs with chronic allergic inflammation.
Methods
The guinea pigs were subjected to seven ovalbumin or saline inhalation exposures. Treatment with Y-27632 (1 mM) and dexamethasone (2 mg/kg) started at the fifth inhalation. Seventy-two hours after the seventh inhalation, the pulmonary mechanics were evaluated and exhaled nitric oxide (ENO) levels were determined. The lungs were removed and histological analysis was performed using morphometry.
Results
The treatment of guinea pigs with the Rho-kinase inhibitor and dexamethasone (ORC group) decreased ENO, the maximal mechanical responses after antigen challenge, inflammation, extracellular matrix remodeling and oxidative stress in the lungs.
This therapeutic strategy reduced the levels of collagen and IFN-γ in the airway walls, as well as IL-2, IFN-γ, 8-iso-PGF2α and NF-κB in the distal parenchyma, when compared to isolated treatment with corticosteroid or Rho-kinase inhibitor (P < 0.05) and reduced the number of TIMP-1-positive cells and eosinophils in the alveolar septa compared to corticosteroid-treated animals (P < 0.05). The combined treatment with the Rho-kinase inhibitor and the corticosteroid provided maximal control over the remodeling response and inflammation in the airways and parenchyma.
Conclusions
Rho-kinase inhibition, alone or in combination with corticosteroids, can be considered a future pharmacological tool for the control of asthma.