01.12.2014 | Research article | Ausgabe 1/2014 Open Access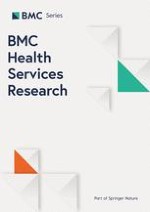 Years worked at night and body mass index among registered nurses from eighteen public hospitals in Rio de Janeiro, Brazil
Zeitschrift:
Autoren:

Rosane Härter Griep, Leonardo S Bastos, Maria de Jesus Mendes da Fonseca, Aline Silva-Costa, Luciana Fernandes Portela, Susanna Toivanen, Lucia Rotenberg
Wichtige Hinweise
Electronic supplementary material
The online version of this article (doi:
10.​1186/​s12913-014-0603-4
) contains supplementary material, which is available to authorized users.
Competing interests
The authors declare that they have no competing interests.
Authors' contributions
RHG participated in study design, statistical analysis, and wrote the paper. MJMF, ASC, LSB, and LFP helped to perform statistical analysis and review of content. ST and LR contributed with intellectual content to the paper. All authors read and approved the final manuscript.
Background
The present paper deals with BMI of female and male nurses and considers their occupational history as regards work schedules. The aim of this study was to determine the relationship between the years of exposure to night work and BMI and to examine related gender differences among registered nurses.
Methods
Study population
This cross-sectional study was performed in the 18 largest public hospitals in the city of Rio de Janeiro, Brazil. The eligible group was comprised of registered nurses providing assistance to patients at the hospitals. The nurses were invited to participate through a face-to-face approach by a team of interviewers. Of a total of 3,904 eligible nurses, 3,229 (82.7%) returned completed questionnaires.
Data collection
Data collection took place from March 2010 to November 2011. Data were collected during work hours at the hospitals studied, through a comprehensive self-reported questionnaire that provided detailed information about the nursing job and health and socioeconomic conditions. The questionnaire was submitted to five rounds of pretesting (
n
 = 50) to improve the clarity of the survey items.
A team of trained interviewers explained the objectives of the study, obtained written consent, and explained how the questionnaire was to be completed. Participants completed the questionnaire, which included questions on weight (both current weight and that at age 20). Additionally, the interviewers scheduled a date with participants for the return of the completed questionnaires.
Measures
In most Brazilian hospitals, continuous work along 24 hours is provided by a shift system with 12 hours at daytime (7:00 am to 7:00 pm) or at night (7:00 pm to 7:00 am), followed by either 36 or 60 hours off. There are also schemes which involve only work on week days, either in the morning, or in the afternoon or both morning and afternoon. These working hours make it possible to engage in more than one professional employment most commonly something in the field of health care. Therefore, the definition of workers' schedule has to consider all jobs he/she is engaged in.
Exposure variable: years worked at night
This variable was defined as the number of complete years of work at night shifts. A night worker was defined as one who had at least one night job on the occasion of the research,
i.e.,
one who worked at night at least once a week or 4 times a month in 12-h shifts. Day workers were asked "Have you ever worked nights?" Possible answers were: (1) Yes, regularly, once a week, (2) Yes, regularly, two to three times a week, (3) Yes, regularly, four or more times a week, (4) Yes, rarely, (5) Yes, occasionally, (6) No. Those who answered "1", "2" or "3" were classified as "former night workers", whereas those answering "4", "5" or "6" were classified as "day workers with no experience in night work. Current and former night workers were asked, respectively: "How long have you been working at night in nursing, here or in another place?" and "For how long did you work at night?" Those who had never worked at night and those who had worked at night for less than or equal to 1 year were considered to have "zero" years of nightshift.
Outcome measure: BMI
BMI was calculated as weight (kg)/height (m) 2 and was used as a continuous variable in analysis.
Covariates
The socio-demographic covariates were gender, age in years (continuous), marital status (married and not married), and
per capita
income in USD, considering the conversion rate at the time of data collection (continuous). Besides, weekly work hours (continuous), alcohol consumption, smoking (never smoker, ex-smoker and current smoker), leisure-time physical activity (yes and no), usual sleep duration (continuous) and self-reported BMI at 20 years old (continuous), were used as covariates.
Weekly work hours were defined as the time devoted to professional work based on the question "Now let's recall the hours that you dedicated to professional nursing each day of last week (at all places)"
.
Participants recorded the actual time they arrived at and left the hospital on a daily basis, regardless of official work schedules. Test-retest reliability, as measured by the intraclass correlation coefficient, was 0.68 (95% confidence interval, 0.50–0.80), as reported in a previous study on nursing workers [
27
].
Alcohol consumptions were quantified based on common measures (glass, can, bottle, and dose). The doses were as follows: beer (200 ml or a double glass), wine (150 ml or a cup); and spirits/distilled (50 ml or one measured amount). Alcohol consumption was classified into four categories as follows: "abstains from alcohol consumption", "low consumption" (<4 doses/month), "medium consumption" (5 to 7 doses up to 4 times/month), and "high consumption" (≥8 doses more than 2 times/week).
Self-reported BMI at 20 years old was based on height at study entry and self-reported recall of weight at age 20.
Statistical analysis
Analyses were conducted separately for women and men. A chi-square test was used to study descriptive analyses of sociodemographic variables as well as other variables related to work, whereas analysis of variance (ANOVA) was used for continuous variables. Differences were considered significant at
p
<0.05. To facilitate the visualization and interpretation of univariate associations, the variable
years
of
work at night
was categorized into three levels (<1 yr, 1–9 years; 10+ years). However, in the statistics modeling both past and present exposures to night shifts as well as BMI were measured as continuous variables so as to avoid loss of information [
28
]. A gamma regression model with an identity link function was used for multivariate analysis [
29
]. Residual analysis was performed to test the adequacy of the model. Age, BMI at the age of 20,
per capita
income, marital status, and number of biological children were considered adjustment variables. Usual sleep duration, leisure-time physical activity, smoking, and alcohol consumption were considered mediator mechanisms to explain the relationship between night shift work and BMI, as described by literature [
30
]. Despite results from interaction models, that did not indicate a significant influence of sex on the association between years of work at night shift and BMI (p = 0.752), analyses were stratified by sex considering (1) that different factors favor weight gain for men and women [
31
]-[
34
], and (2) the evidences of gender-differences in the relationship between shift schedule and BMI [
22
],[
23
]. This procedure considered that, on the one hand, the low number of men in this study compared to women leads to an unavoidable limitation in statistical power in all results on men, but, on the other hand, controversies on gender differences justify gender-stratified analysis.
The final model for each gender was chosen by Akaike Information Criterion (AIC). Predictions for the BMI at different years of exposure to work were made from the final model, considering all covariates (mean centered continuous variables: age, BMI at age of 20 years, per capita income, weekly work hours, and usual sleep duration, and categorical variables fixed in low risk: not married, without biological children, no smoking, no alcohol consumption, and physically active in leisure time). Data were analyzed by using the free software R, version 2.15 (R Development Core Team, Vienna, Austria).
Ethical considerations
The study was briefly explained to participants, who were informed that involvement was completely voluntary and that they could withdraw at any time with no negative consequences. All participants signed consent forms. The protocol was submitted and accepted by the Oswaldo Cruz Foundation (Fiocruz) Ethics Research Committee.
Results
From the 3,229 current nurses in the study, 857 (26%) had missing information in one or more analysis variable. The remaining 2,372 individuals (2,100 women) were included in the analyses. No differences were observed between the analyzed group and individuals with missing information in sociodemographic, occupational, or behavioral variables. The average number of years of worked at night for men and women were 10.82 (SD = 9.27) years and 6.84 (SD = 6.95) years, respectively. Moreover, the proportion of workers with different years worked at night varied between sexes. Among men, 12.1% had never worked at night, 38.9% had worked between 1 and 9 years, and 48.9% had worked 10 or more years. Among women, these proportions were 21.3%, 48.0%, and 30.7%, respectively.
Discussion
Conclusions
The results of this study suggest that night work plays a role in increases in BMI. Further studies are needed to better understand the biological mechanisms involved and the complex behavioral and social challenges experienced by night shift workers. As night work is essential to some professions, prevention strategies of obesity should incorporate improvements in the work environment, such as the provision of proper meals to night workers, as well as educational programs on the health effects of night work. Finally, we must consider the need for careful examination of legislation to reduce exposure to night work, with a guarantee of changing work schedules, to minimize the unavoidable consequences of night work to health.
Acknowledgements
RHG and LR are fellows of the Brazilian National Research Council (CNPq) and of the Irving Selikoff International Fellows of the Mount Sinai School of Medicine ITREOH Program. Their work was supported in part by grant 1 D43 TW00640 from the Fogarty International Center of the National Institutes of Health.
This article is published under license to BioMed Central Ltd. This is an Open Access article distributed under the terms of the Creative Commons Attribution License (
http://​creativecommons.​org/​licenses/​by/​2.​0
), which permits unrestricted use, distribution, and reproduction in any medium, provided the original work is properly credited. The Creative Commons Public Domain Dedication waiver (
http://​creativecommons.​org/​publicdomain/​zero/​1.​0/​
) applies to the data made available in this article, unless otherwise stated.
Competing interests
The authors declare that they have no competing interests.
Authors' contributions
RHG participated in study design, statistical analysis, and wrote the paper. MJMF, ASC, LSB, and LFP helped to perform statistical analysis and review of content. ST and LR contributed with intellectual content to the paper. All authors read and approved the final manuscript.