07.05.2020 | Ausgabe 4/2020 Open Access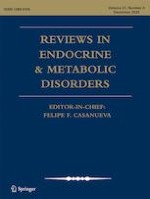 Zinc-alpha2-glycoprotein, dysglycaemia and insulin resistance: a systematic review and meta-analysis
Zeitschrift:
Autoren:

Harriet M. Pearsey, Joseph Henson, Jack A. Sargeant, Melanie J. Davies, Kamlesh Khunti, Toru Suzuki, Kelly A. Bowden-Davies, Daniel J. Cuthbertson, Thomas E. Yates
Wichtige Hinweise
Electronic supplementary material
Publisher's note
Springer Nature remains neutral with regard to jurisdictional claims in published maps and institutional affiliations.
2

Methods
2.1

Search strategy

This systematic review was designed according to National Institute for Health and Care Excellence (NICE) Systematic Review guidelines (

19

) and British Medical Journal checklist (

20

). The basis for this review was developed using the PICO model (presented in detail within Supplementary Materials Section 3: PICO Model Interpretation). Observational studies reporting associations between circulating ZAG concentrations (based on targeted assay analyses) and T2DM or other forms of dysglycaemia (e.g. pre-diabetes, polycystic ovary syndrome (PCOS), IR without diabetes and metabolic syndrome (MetS)), including a comparison with circulating ZAG concentrations in metabolically healthy individuals, were retrieved from four electronic databases (PubMed, Medline, Web of Science and Scopus). The inclusion of PCOS as a form of dysglycaemia in this study is due to the higher level of IR, and increased risk of pre-diabetes and T2DM when compared to the general population (

21

,

22

). The search strategy combined keywords related to ZAG and T2DM (including common terms for dysglycaemia) (Supplementary Materials Section 3: Key words). There was no date restriction placed on the database search, but all papers must have been written in English or translated into English. Full inclusion criteria and detailed search strategy are located in Supplementary Materials (Section 3: Inclusion criteria and Selection process). Reference lists of retrieved articles were manually scanned for additional eligible studies. All aspects of literature search and study selection were performed by two researchers independently (HMP and JH).
2.2

Data extraction

Data extraction was performed by two independent reviewers (HMP and JH). Extracted data included: descriptive information of the study (first author, date and country performed in) and participant characteristics (number of cases and controls, age and body mass index (BMI)). Data on correlational statistics for the association between ZAG and continuous measures of glucose, glycated haemoglobin (HbA1c) and insulin were also extracted. ZAG mean concentration for the groups (mg . L −1), the standard deviation (SD) for the ZAG mean and the group sizes were taken for both the controls and cases from the least adjusted results. This allowed the raw mean difference between cases and controls to be calculated in order to conduct the meta-analysis. Further information on the data extraction process can be found in the Supplementary Materials (Section 3: Data extraction).
2.3

Assessing risk of bias

The risk of bias assessment for studies included in this review was performed by two reviewers independently (HMP and JH) using the Strengthing the reporting of observational studies in epidemiology (STROBE) tool (

23

). Consensus was reached for each study with, if necessary, consultation of a third reviewer (TEY). Publication bias was assessed using funnel plots. Publication bias is important to consider as the reporting of null results can often be neglected and only results considered significant are put in to publication, which can lead to detrimental conclusions (

24

,

25

).
2.4

Meta-analysis

Pooled mean difference with 95% confidence intervals [95% CI] was calculated between cases and controls for circulating ZAG concentrations, using random effects models. The percentage of variability across studies attributable to heterogeneity beyond chance was quantitatively assessed using the

I

2

statistic (0% inferring no observed heterogeneity, 25% low heterogeneity, 50% medium heterogeneity and ≥ 75% infers high heterogeneity) (

25

). The meta-analysis was presented with data further separated into subgroups to explore pooled effects within T2DM, PCOS and "other" forms of dysglycaemia (MetS, pre-diabetes or IR without diabetes).

To mediate the effects of adiposity on the difference in ZAG between groups, a sensitivity analysis was performed by conducting a meta-analysis on the models that allowed for comparisons in overweight or obese groups. The criteria for inclusion in this restricted meta-analysis are located in the Supplementary Material (Section 3: Data extraction).
2.5

Narrative review

A narrative review of the extracted correlational statistics (Supplementary Materials Section 2: Fig.

3

) between circulating ZAG concentration and circulating markers of glucose (fasting glucose (FG), 2-h or random glucose (2 h/RG), glycated haemoglobin (HbA1c)) and insulin (fasting insulin (FIns) and homeostatic model assessment of insulin (HOMA-IR)) was performed using data from the least adjusted models. Meta-analyses were not performed due to many studies reporting incomplete data, such as presentation of

p

-values without the corresponding correlation coefficients. For ease of identification, each included study is referred to by a study number (SN). The full study titles and corresponding SN is located in the Supplementary Material (Section 1: Study numbers).
2.6

Statistical analysis

A

p

value of <0.05 was considered statistically significant. Quantitative analysis was conducted using commercially available software STATA 15.0 (STATA, Version 15.0, StataCorp, College Station, Texas, USA).
4

Discussion

The findings of our meta-analyses and narrative review suggest that increased ZAG is negatively associated with the development of metabolic dysfunction, particularly that related to dysglycaemia. This effect may be mediated by differences in adiposity, as there were no associations between ZAG and dysglycaemia in studies where BMI was taken into account. However, only three studies (encompassing four cohorts) were included in the latter analysis, which suggests that further research is needed in this area.

As the first study to summarise the literature surrounding the association between circulating ZAG and dysglycaemia, it identifies key limitations in the literature. Firstly, substantial heterogeneity exists, meaning more research is needed to establish whether ZAG is a valuable biomarker in the development of dysglycaemia. Secondly, there is a need to determine if the alterations in ZAG occur before the onset of dysglycaemia or vice versa. Furthermore, the summarised data shows a lack of studies isolating individuals by adiposity status to further determine if the relationship between ZAG and dysglycaemia is primarily driven by adiposity, or whether there are adiposity independent pathways linking ZAG to dysglycaemia.

This meta-analysis also has important limitations. Mainly, the inability to undertake a meta-analysis on correlation or association statistics between ZAG and markers of glucose control and IR. Additionally, there has been some investigation into the relationship between other measures of ZAG (i.e. adipose tissue mRNA and protein content) and dysglycaemia which warrants investigation.

In conclusion, this is the first study to review the current findings on circulating concentrations of ZAG and dysglycaemia. More investigations into changes in circulating ZAG with the development of dysglycaemia, with the removal of adiposity as a confounder, are needed to provide a clearer understanding.
Acknowledgements
Thanks are extended to Miss Humaira Hussein for assisting with the STATA code generation for the meta-analysis performed in this review.
Disclaimer
The views expressed are those of the authors and not necessarily those of the Diabetes Research Centre, NHS, the NIHR or the Department of Health Sciences at University of Leicester. This study will form part of Harriet M Pearsey's PhD research, supervised by Professor Thomas E Yates, Professor Toru Suzuki and Professor Melanie J Davies.
Funding source
The research was supported by the National Institute for Health Research (NIHR) Leicester Biomedical Research Centre. Daniel J Cuthbertson was supported by a research grant for ZAG work by the Diabetes Research and Wellness Foundation.
Compliance with ethical standards
Competing interests
The authors of this review have not declared any competing interest. No conflict of interest identified in this systematic review.
Open Access
This article is licensed under a Creative Commons Attribution 4.0 International License, which permits use, sharing, adaptation, distribution and reproduction in any medium or format, as long as you give appropriate credit to the original author(s) and the source, provide a link to the Creative Commons licence, and indicate if changes were made. The images or other third party material in this article are included in the article's Creative Commons licence, unless indicated otherwise in a credit line to the material. If material is not included in the article's Creative Commons licence and your intended use is not permitted by statutory regulation or exceeds the permitted use, you will need to obtain permission directly from the copyright holder. To view a copy of this licence, visit
http://​creativecommons.​org/​licenses/​by/​4.​0/​
.
Publisher's note
Springer Nature remains neutral with regard to jurisdictional claims in published maps and institutional affiliations.