01.12.2012 | Primary research | Ausgabe 1/2012 Open Access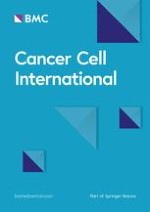 ZIP8 expression in human proximal tubule cells, human urothelial cells transformed by Cd+2 and As+3 and in specimens of normal human urothelium and urothelial cancer
Zeitschrift:
Autoren:

Amornpan Ajjimaporn, Tom Botsford, Scott H Garrett, Mary Ann Sens, Xu Dong Zhou, Jane R Dunlevy, Donald A Sens, Seema Somji
Wichtige Hinweise
Electronic supplementary material
The online version of this article (doi:
10.​1186/​1475-2867-12-16
) contains supplementary material, which is available to authorized users.
Competing interests
None of the authors' have competing interests.
Authors' contributions
AA: Postdoctoral fellow. RT-PCR and western analysis of ZIP8 expression. TB: Undergraduate research summer student who validated the initial finding of elevated ZIP8 mRNA expression from microarray data. SG: Supervised the postdoctoral fellow in western analysis and assisted with data analysis. MAS & ZDZ: Procurement of human and animal tissue, mouse autopsy, tissue fixation, and evaluation of immunostaining and histology. JD: Supervised, trained, and assisted postdoctoral fellow with immunofluorescent localization. DAS: Worked on the manuscript with postdoctoral fellow, designed study, final data integration. SS: Wrote the manuscript and trained and supervised postdoctoral fellow in cell culture and RT-PCR analysis. All authors read and approved the final manuscript.
Abstract
Background
ZIP8 functions endogenously as a Zn+2/HCO3- symporter that can also bring cadmium (Cd+2) into the cell. It has also been proposed that ZIP8 participates in Cd-induced testicular necrosis and renal disease. In this study real-time PCR, western analysis, immunostaining and fluorescent localization were used to define the expression of ZIP8 in human kidney, cultured human proximal tubule (HPT) cells, normal and malignant human urothelium and Cd+2 and arsenite (As+3) transformed urothelial cells.
Results
It was shown that in the renal system both the non-glycosylated and glycosylated form of ZIP8 was expressed in the proximal tubule cells with localization of ZIP8 to the cytoplasm and cell membrane; findings in line with previous studies on ZIP8. The studies in the bladder were the first to show that ZIP8 was expressed in normal urothelium and that ZIP8 could be localized to the paranuclear region. Studies in the UROtsa cell line confirmed a paranuclear localization of ZIP8, however addition of growth medium to the cells increased the expression of the protein in the UROtsa cells. In archival human samples of the normal urothelium, the expression of ZIP8 was variable in intensity whereas in urothelial cancers ZIP8 was expressed in 13 of 14 samples, with one high grade invasive urothelial cancer showing no expression. The expression of ZIP8 was similar in the Cd+2 and As+3 transformed UROtsa cell lines and their tumor transplants.
Conclusion
This is the first study which shows that ZIP8 is expressed in the normal urothelium and in bladder cancer. In addition the normal UROtsa cell line and its transformed counterparts show similar expression of ZIP8 compared to the normal urothelium and the urothelial cancers suggesting that the UROtsa cell line could serve as a model system to study the expression of ZIP8 in bladder disease.