03.08.2021 | Leitthema | Ausgabe 9/2021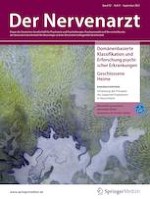 Zwölf Jahre Research Domain Criteria in der psychiatrischen Forschung und Praxis: Anspruch und Wirklichkeit
Zeitschrift:
Autoren:

Apl. Prof. Dr. Dusan Hirjak, Emanuel Schwarz, Andreas Meyer-Lindenberg
Wichtige Hinweise
×
QR-Code scannen & Beitrag online lesen
Zusammenfassung
Vor 12 Jahren wurde die Research-Domain-Criteria(RDoC)-Initiative des National Institute of Mental Health (NIMH) vorgestellt. Die RDoC bietet eine Matrix für die systematische, dimensionale und domänenbasierte Erforschung psychischer Störungen, die nicht auf vorher definierten Krankheitsentitäten im Sinne des Diagnostic and Statistical Manual of Mental Disorders (DSM) oder der International Classification of Diseases (ICD) basiert. Das primäre Ziel von RDoC ist es, die Natur psychischer Gesundheit und Krankheit im Hinblick auf unterschiedliche Ausprägungen der Dysfunktion in diagnoseübergreifenden psychologischen/biologischen Systemen zu verstehen. Diese selektive Übersichtsarbeit soll einen umfassenden Überblick über RDoC-basierte Studien geben, die zur besseren konzeptionellen Organisation psychischer Erkrankungen beigetragen haben. Es wurden zahlreiche und methodisch anspruchsvolle Studien zum Thema RDoC identifiziert. Die Anzahl der wissenschaftlichen Studien nahm im Laufe der Zeit zu, was auf eine zunehmende auf Dimensionen basierende Forschung in der Psychiatrie hindeutet. Zusammenfassend lässt sich sagen, dass die RDoC-Initiative ein erhebliches Potenzial hat, die Pathomechanismen psychischer Erkrankungen in ihrer Komplexität genauer zu definieren. In der Zukunft müssen aber noch große Herausforderungen (z. B. kleine und heterogene Stichproben, unklare Biomarkerdefinitionen und fehlende Replikation) bewältigt werden. Darüber hinaus ist plausibel, dass eine Diagnostik der Zukunft dimensionale und kategoriale Ansätze integrieren wird, um zu einer therapeutisch relevanten Stratifizierung zu kommen.