01.12.2018 | Original Research | Ausgabe 1/2018 Open Access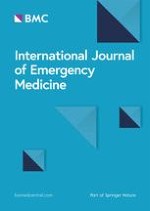 A comparative, epidemiological study of acute renal colic presentations to emergency departments in Doha, Qatar, and Melbourne, Australia
Zeitschrift:
Autoren:

Sameer A. Pathan, Biswadev Mitra, Zain A. Bhutta, Isma Qureshi, Elle Spencer, Asmaa A. Hameed, Sana Nadeem, Ramsha Tahir, Shahzad Anjum, Peter A. Cameron
Abstract
Background
This study aimed to compare the epidemiology, clinical presentations, management, and outcomes of renal colic presentations in two major academic centers from geographically diverse populations: Qatar (a country in the Afro-Asian stone belt) and South-Eastern Australia (not within a stone belt).
Methods
We undertook a retrospective cohort study of patients with renal colic who presented to the Hamad General Hospital Emergency Department (HGH-ED), Qatar, and The Alfred ED, Melbourne, Australia, during a period of 1 year from August 1, 2012, to July 31, 2013. Cases were identified using ICD-9-CM codes, and an electronic template was used to record the data on predefined clinical variables.
Results
A total of 12,223 from the HGH-ED and 384 from The Alfred ED were identified as renal colic presentations during the study period. The rate of renal colic presentations at the HGH-ED was 27.9 per 1000 ED visits compared to 6.7 per 1000 ED visits at The Alfred ED. Patients presenting to the HGH-ED were significantly younger [34.9 years (29.0–43.4) than The Alfred ED [48 years (37–60);
P
 < 0.001].
The median stone size was larger in the HGH-ED group [6 (4–8) mm] versus The Alfred ED group [4 (3–6) mm,
P <
0.001]. The intervention rate in the stone-positive population was significantly higher in the HGH-ED group as opposed to The Alfred ED group (38.7 versus 11.9%,
P
 < 0.001). At the time of discharge, The Alfred ED group received fewer analgesic prescriptions (55.8 versus 83.5%,
P <
0.001) and more tamsulosin prescriptions (25.3 versus 11.7%,
P <
0.001).
Conclusions
Renal colic presentations to the HGH-ED, Qatar, were younger, with larger stone size mostly located in the lower ureter, compared to The Alfred ED, Melbourne, Australia. The findings suggest that the benefits of treatment including medical expulsion therapy will vary between the two populations. Differences in epidemiology and patient mix should be considered while tailoring strategies for effective management of patients with renal colic in a given setting.