01.12.2011 | Case report | Ausgabe 1/2011 Open Access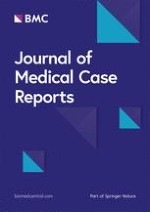 A giant adrenal pseudocyst presenting with right hypochondralgia and fever: a case report
Zeitschrift:
Autoren:

Masashi Momiyama, Kenichi Matsuo, Kenichi Yoshida, Kuniya Tanaka, Hirotoshi Akiyama, Shoji Yamanaka, Itaru Endo
Wichtige Hinweise
Electronic supplementary material
The online version of this article (doi:
10.​1186/​1752-1947-5-135
) contains supplementary material, which is available to authorized users.
Competing interests
The authors declare that they have no competing interests.
Authors' contributions
MM, KM and KY were involved in drafting the manuscript. KT, HA, SY and IE revised the manuscript. All authors have read and approved the final manuscript.
Abbreviations
MRI
magnetic resonance imaging
PET
positron emission tomography
Introduction
In 1903, Doran attributed the first case of adrenal cyst to Greiselius [
1
]. In 1670, he described a 45-year-old man whose death resulted from a rupture of the cyst. There were only seven cases of adrenal cyst reported by 1906. Wahl questioned the rarity of adrenal cysts in 1951 and found an autopsy incidence of 1 in 1555 [
2
]. The paucity of reports in the literature was a manifestation of clinical silence rather than true rarity. In 1966, Foster described 220 cases of adrenal cyst in the world's literature [
3
], while in 1979 Incze
et al
. reported 250 cases [
4
].
Cystic lesions of the adrenal gland are uncommon and demonstrate a spectrum of histological changes and may vary from pseudocysts to malignant cystic neoplasms. An adrenal pseudocyst is a fibrous-surrounded cyst within the adrenal gland devoid of a recognizable layer of lining cells. The incidence of adrenal pseudocyst with infection is very rare. Only a few cases have been found in the MEDLINE database search with 'adrenal pseudocyst' and 'infection' so far. We report a case of giant adrenal pseudocyst presenting with a right hypochondralgia and high fever, which was diagnosed as an adrenal pseudocyst with infection measuring about 19 cm in largest diameter.
Case presentation
A 52-year-old Japanese man, who had an intra-abdominal cystic mass, was followed up every year in another hospital. His previous ultrasonography (US) which was performed seven years ago, revealed a unilobulated cyst, measuring 14 cm in diameter, adjacent to the liver. The internal structure of the cyst was homogeneous and there was no septation. Upon this finding his lesion was misdiagnosed as a liver cyst and it was suggested that it be monitored. He was admitted to our hospital with a two-month history of right hypochondralgia and high fever. On clinical examination, he was febrile with temperature of 38.0°C. His blood pressure was 116/76 mm Hg without orthostatic changes or tachycardia. A clearly defined mass occupied the right hypochondrium and was tender. Laboratory investigation showed: a total leukocyte count of 12,200/mm
3
; C-reactive protein of 23.7 mg/dL; alkaline phosphatase of 634 U/L; and gamma glutamyl transpeptidase of 183 U/L. The hormonal examination, serum catecholamines, cortisol and aldosterone were all within normal limits. Fasting blood sugar, renal functions and liver function were within normal limits. Tumor marker (carcinoembryonic antigen, carbohydrate antigen 19-9 and alpha-fetoprotein) levels were within normal limits; urine and stool examination, chest X-ray, gastrointestinal endoscopy and colonoscopy did not reveal any abnormalities. He underwent several imaging investigations. An abdominal US revealed an 18 × 18 cm heterogeneously hypoechoic lesion in the right adrenal area with a peripheral highechoic rim (Figure
1
). An enhanced computed tomography (CT) of the abdomen revealed a giant homogeneous low density mass lesion in the right adrenal region indenting over the inferior aspect of the right lobe of the liver, displacing the inferior vena cava with no abdominal lymphadenopathy (Figure
2a
). The content of the lesion was not enhanced with contrast medium. His right kidney was also ventrally displaced (Figure
2b
). Clear margins between the mass and the liver could not be defined in the CT. Magnetic resonance imaging (MRI) revealed a well-defined high intensity mass which appeared homogeneous intense in the T1-weighted image (Figure
3a
) but heterogeneous intense in the T2-weighted image (Figure
3b
). Based on these findings, the patient was diagnosed as having an adrenal cyst with infection.
×
×
×
After admission, treatment with antibiotics (imipenem/cilastatin sodium) was started. Despite treatment with antibiotics, the high fever persisted. He had blood culture taken three times during a fever episode and all of the results were negative. Percutaneous aspiration was not performed because of the possibility of its malignancy due to the large size of the mass. The patient underwent reverse-L-type laparotomy and excision of the right adrenal cyst. At laparotomy, the cyst was found to be densely adhered to the posterior abdominal wall, the liver, the inferior vena cava and the right kidney. It was resected concomitant with partial hepatectomy. The cyst was unilocular, measured 19 × 18 × 19 cm and weighed 1525 g. It contained a reddish brown fluid and a culture of the fluid showed
Staphylococcus captis
. The histological examination showed that the cystic wall was 0.6 cm to 1.1 cm thick and consisted of dense fibrous tissue, without an epithelial lining (Figure
4
). There were areas of abscess and chronic inflammation within the fibrous tissue. A rim of the normal adrenal tissue was found to be compressed within the cystic capsule and a diagnosis of an adrenal pseudocyst was made. The patient's postoperative course was uneventful and he was discharged 10 days after the operation. The right hypochondralgia and high fever resolved after the removal of the pseudocyst.
×
Discussion
On CT, most pseudocysts demonstrate well-demarcated round or oval masses with fluid density but the CT features of pseudocysts are more complicated than simple cysts due to the complicated components such as septa, blood and soft-tissue components. The cysts wall shows occasional calcification. MRI is the best modality for visualizing the complicated intracystic components. Moreover, MRI is particularly sensitive for detecting intracystic hemorrhage, which shows hyperintense on both T1- and T2-weighted images.
Conclusion
An adrenal pseudocyst is an uncommon clinical finding and is even rarer when it is giant-sized and infected. Surgery is required for symptomatic cases in order to relieve the symptoms and in cases of uncertain diagnosis. Radiological and clinical features of the tumor are nonspecific, thus, histopathological examination is essential in order to establish a definitive diagnosis.
Consent
Written informed consent was obtained from the patient for publication of this case report and any accompanying images. A copy of the written consent is available for review by the Editor-in-Chief of this journal.
This article is published under license to BioMed Central Ltd. This is an Open Access article distributed under the terms of the Creative Commons Attribution License (
http://​creativecommons.​org/​licenses/​by/​2.​0
), which permits unrestricted use, distribution, and reproduction in any medium, provided the original work is properly cited.
Competing interests
The authors declare that they have no competing interests.
Authors' contributions
MM, KM and KY were involved in drafting the manuscript. KT, HA, SY and IE revised the manuscript. All authors have read and approved the final manuscript.