01.12.2012 | Research article | Ausgabe 1/2012 Open Access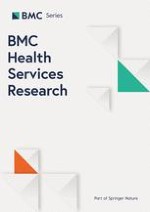 A model for community health service development in depressed rural areas in China
Zeitschrift:
Autoren:

Yuan Zhaokang, Liu Yuxi, Liu Yong, Xiao Yunchang, Guo Yuanjun, Mark Harris
Wichtige Hinweise
Competing interests
Financial competing interests: None of the authors have financial competing interests to declare.
Authors' contributions
YZ from the School of Public Health, Nanchang University was responsible for the project, including project design, site implementation and supervision. He led the authorship of this paper. LY and LY were involved in the evaluation data collection and analysis and critically reviewed and commented the draft paper. XY coordinated the project support in Chongyi and critically reviewed and commented the draft paper. GY contributed to the implementation of the project intervention in Chongyi and critically reviewed and commented on the draft paper. MH was advisor to the project during the design, implementation and evaluation stages. He visited Chongyi and provided comment and advice and during visits of the researchers to Australia discussed the analysis and writing. He reviewed and edited the paper. All authors read and approved the final manuscript.
Abstract
Background
To introduce a model of community health service organization (as implemented in urban areas) to less developed rural areas in China and evaluate the impact of this model on health care utilization.
Methods
The intervention involved developing leadership at county level, training rural health practitioners, providing clinical management guidelines and standards, encouraging clinic improvements and providing access to subsidies for public health work. We chose 7 townships and 49 administrative villages in Chongyi County as the intervention sites; 3 townships and 9 administrative villages in Luxi County as the comparison sites. Officers from county health bureaus and postgraduates from School of Public Health, Nanchang University visited each township hospital and village clinic in field together and made observations and interviewed clinic staff.
Results
There was little change in health facilities or workforce in the two areas. However, there was an increase in the use of public health services at township and village level in the intervention sites in Chongyi. In these, the proportion of clinics which had developed a child health (under the age of 3) management system, maternal postpartum visit and chronic disease management increased from 53%, 51% and 47% to 78%, 73%, and 71% respectively. There was no significant change in the comparison sites.
Conclusions
The trial demonstrated that it was feasible to implement a model of community health service delivery that was adapted to depressed rural areas because it required little organizational change, additional funding or personnel. The model had a positive impact on the provision of public health programs, a finding which has implications for efforts to improve access to primary health care in rural China.