01.12.2019 | Technical advance | Ausgabe 1/2019 Open Access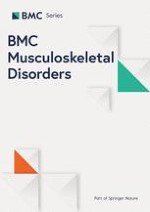 A new finger-preserving procedure as an alternative to amputation in recurrent severe Dupuytren contracture of the small finger
Zeitschrift:
Autoren:

Asa Eiriksdottir, Isam Atroshi
Wichtige Hinweise
Publisher's Note
Springer Nature remains neutral with regard to jurisdictional claims in published maps and institutional affiliations.
Abstract
Background
Recurrent severe Dupuytren contracture of the small finger's proximal interphalangeal (PIP) joint is a difficult problem. Further surgery carries high risk of complications and poor outcome. Patients are often offered finger amputation. We have devised a novel surgical procedure consisting of middle phalanx monoblock resection and ligament reconstruction to create a new functioning interphalangeal joint.
Methods
Two patients requesting small-finger amputation because of severe PIP joint contracture after multiple treatments for Dupuytren contracture were offered and accepted this new procedure. Through a dorsal incision the extensor tendon is incised longitudinally exposing the middle phalanx and interphalangeal joints. The collateral ligaments of both interphalangeal joints are detached from the middle phalanx. The middle phalanx is dissected from soft tissues (including the flexor digitorum superficialis tendon) and removed. The distal phalanx is brought proximally and the ends of the collateral ligaments are sutured with non-absorbable sutures with the joint held in full extension and congruency. The two patients were evaluated at 18 months and 15 months after surgery, respectively.
Results
Both patients regained good finger posture with almost full extension and had normal sensation and no pain. Active flexion in the new interphalangeal joint was 60 degrees and 35 degrees, respectively. Both patients had full metacarpophalangeal joint flexion and extension, normal 2-point discrimination in the small finger and higher grip strength in the treated than the contralateral hand. Radiographs showed a congruent new interphalangeal joint. Both patients were very satisfied with the outcome.
Conclusions
In patients with Dupuytren disease and severe PIP joint contracture after multiple treatments, this novel procedure consisting of middle-phalanx excision and ligament reconstruction creating a new functioning interphalangeal joint has good short-term outcomes and is a favorable alternative to finger amputation. Longer follow-up will show whether these results are durable.