01.12.2017 | Research article | Ausgabe 1/2017 Open Access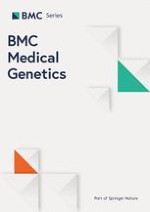 A novel mutation in homeobox DNA binding domain of
HOXC13

gene underlies pure hair and nail ectodermal dysplasia (ECTD9) in a Pakistani family
Zeitschrift:
Autoren:

Anwar Kamal Khan, Noor Muhammad, Abdul Aziz, Sher Alam Khan, Khadim Shah, Abdul Nasir, Muzammil Ahmad Khan, Saadullah Khan
Abstract
Background
Pure hair and nail ectodermal dysplasia (PHNED) is a congenital disorder of hair abnormalities and nail dysplasia. Both autosomal recessive and dominant inheritance fashion of PHNED occurs. In literature, to date, five different forms of PHNED have been reported at molecular level, having three genes known and two loci with no gene yet.
Methods
In this study, a four generations consanguineous family of Pakistani origin with autosomal recessive PHNED was investigated. Affected members exhibited PHNED phenotypes with involvement of complete hair loss and nail dysplasia. To screen for mutation in the genes (
HOXC13
,
KRT74
,
KRT85
), its coding exons and exons-intron boundaries were sequenced. The 3D models of normal and mutated HOXC13 were predicted by using homology modeling.
Results
Through investigating the family to known loci, the family was mapped to ectodermal dysplasia 9 (ECTD9) loci with genetic address of 12q13.13. Mutation screening revealed a novel missense mutation (c.929A > C; p.Asn310Thr) in homeobox DNA binding domain of
HOXC13
gene in affected members of the family. Due to mutation, loss of hydrogen bonding and difference in potential energy occurs, which may resulting in alteration of protein function.
Conclusion
This is the first mutation reported in homeodomain, while 5
th
mutation reported in
HOXC13
gene causing PHNED.