01.12.2015 | Research article | Ausgabe 1/2015 Open Access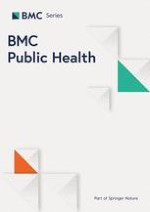 A prospective pilot cohort analysis of crash characteristics and pattern of injuries in riders and pillion passengers involved in motorcycle crashes in an urban area in Cameroon: lessons for prevention
Zeitschrift:
Autoren:

Alain Chichom-Mefire, Julius Atashili, Jean G. Tsiagadigui, Clovis Fon-Awah, Marcelin Ngowe-Ngowe
Wichtige Hinweise
Competing interests
The authors declare that they have no competing interests.
Author's contribution
A C-M designed the study, contributed in protocol writing, data collection, statistical analysis, writing and revising the manuscript. JA contributed in designing the study, analysed the data and revised the final version of the manuscript. JGT contributed in data collection and revised the manuscript. C F-A Contributed in study design, protocol writing, data collection, statistical analysis and drafting the manuscript. M N-N contributed in data analysis and revision of the final version of the manuscript. All authors read and approved the final manuscript.
Authors' information
Not applicable.
Availability of data and materials
Not applicable.
Funding
Source of funding: none.
Abstract
Background
Low and middle-income countries carry over ninety per cent of the burden of injury related mortality and disability. Motorcycles are gradually becoming a major mode of transportation in Cameroon and other African countries in the absence of an organized public transport. Consequently, the contribution of motorcycle crash to injury-related deaths seems to be on the rise. Currently, data addressing motorcycle crash characteristics, pattern, and severity of motorcycle-related injuries in Cameroon are scarce. We hypothesised that head and limb injuries are the most frequent cause of morbidity and mortality and equally affect riders and pillion passengers.
Methods
This hospital-based prospective pilot cohort analysis involving 405 motorcycle crashes and 621 injury victims was conducted in Laquintinie Hospital, a large centre located in an urban area in Cameroon. All motorcycle riders and passengers received in the emergency department over a 4 months period with an injury following a traffic related crash were included. Crash characteristics and type, anatomical location and severity of injuries were recorded and analysed comparing the pattern of injuries between riders and pillion passengers involved in motorcyclecrashes. This pilot analysis is expected to propose a snapshot of motorcycle injuries in Douala and will be followed by a larger analysis over a longer period.
Results
We recorded a majority of motorcycle versus car and motorcycle versus motorcycle collisions. Most of these crashes occurred over the week-end and in the night. Helmet use was almost inexistent. We observed that females aged above 40 years represented the majority of pillion passengers. This accounted for the sex-ratio of 1.1/1. A total of 1311 injuries were identified in our patients, giving a mean of 2.1 injuries per victim. The head and the limbs were the most affected anatomical areas. Riders carried a higher risk of sustaining an injury to head and neck than pillion passengers. Riders and pillion passengers carried equal risk of injury to the lower limbs. Emergency room mortality was 4 · 3 % and riders were more likely to die than pillion passengers.
Conclusion
This study has identified females aged above 40 years as a special vulnerable group in Douala. It also carries strong messages useful for the implementation of preventive measures and management of patients injured in motorcycle-related crash in general.