01.12.2015 | Research article | Ausgabe 1/2015 Open Access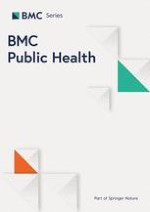 A qualitative study assessing cardiovascular risk factors: the accumulative stressors influencing societal integration of teenage African immigrants
Zeitschrift:
Autoren:

Cheryl Zlotnick, Hadass Goldblatt, Efrat Shadmi, Daphna Birenbaum-Carmeli, Omer Taychaw
Wichtige Hinweise
Competing interests
The authors declare that they have no competing interests.
Authors' contributions
CZ conceived, organized and oversaw the study, and wrote the original manuscript draft. HG oversaw youth interviews, carried out the community advisor focus group, translated the interviews, conducted analyses for the results, and edited the manuscript. DC carried out leader interviews, participated in the analyses, and edited the manuscript. ES participated in manuscript conception, provided input on the analyses, and edited the manuscript. OT organized youth and community advisor focus groups, and provided input on the analyses. All authors read and approved the final manuscript.
Authors' information
C. Zlotnick is a nurse and an Associate Professor whose research focuses on health care inequities in access, utilization, delivery, and status. Her work has concentrated on families, youth and children who live in homeless situations, are new immigrants, experiencing transiency, or involved in the foster care system.
H. Goldblatt is a social worker and a Senior Lecturer whose research focuses on trauma, domestic violence, and sensitive health issues; patient aggression against healthcare providers; and patients' experiences of coping with illnesses.
D. Birenbaum-Carmeli is a medical anthropologist and Associate Professor whose research interest is on the intersection between politics and health, particularly on the interface of health care and international state politics, primarily in its repercussions on various vulnerable subgroups including Palestinian populations.
E. Shadmi is a Senior Lecturer whose research focuses on evaluating equitable health care delivery and its outcomes, evaluation of organizational mechanisms to reduce inequity in care, and on methods to better understand the distribution of morbidity between population groups.
O. Taychaw has a master's degree in political science/policy and is a high school teacher. As an immigrant from Ethiopia, he has worked extensively as a community activist for all vulnerable and marginalized subgroups in Israel.
Abstract
Background
This study examines the nature of disparities in cardiovascular risk by exploring chronic stressors and other cardiovascular risk factors on youth of African descent who are integrating into an industrialized society.
Methods
Qualitative data on cardiovascular risk and acclimation to the dominant society were collected from three groups of key informants: (1) community leaders; (2) youth; and (3) a community advisory group.
Results
Youth of Ethiopian descent engaged in the same western diets, computerized social networking, and habits in smoking and alcohol use as did youth from the dominant society. However, informants of Ethiopian descent encountered and witnessed racism, institutional discrimination and evidence of devaluing Ethiopian culture, influencing youths' ability to integrate into the society.
Conclusion
Immigrant youth of Ethiopian descent face an accumulation of conflicting social support, psychosocial factors, and stressors, including: living in low-income, high-crime areas; encountering pervasive discrimination; acclimating to a new and industrialized culture; and navigating within an often unhospitable society. Contributing to these factors are changes in health behaviors such as adding processed foods and sugary drinks to the diet, increasing heavy alcohol use and substituting screen use for physical activity. The accumulative impact of these factors contributes to the marginalization of youth of Ethiopian descent in the dominant society and perpetuates a cycle of increasing cardiovascular risk.