01.12.2012 | Case report | Ausgabe 1/2012 Open Access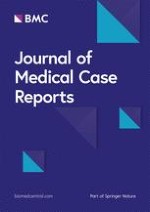 Acute abdominal compartment syndrome complicating a colonoscopic perforation: a case report
Zeitschrift:
Autoren:

Amine Souadka, Raouf Mohsine, Lahsen Ifrine, Abdelkader Belkouchi, Hadj Omar El Malki
Wichtige Hinweise
Electronic supplementary material
The online version of this article (doi:
10.​1186/​1752-1947-6-51
) contains supplementary material, which is available to authorized users.
Competing interests
The authors declare that they have no competing interests.
Authors' contributions
AS was the author in charge and wrote the manuscript. RM, LI and AB helped in writing the manuscript. HOEM was a major contributor in writing the manuscript. All authors read and approved the final manuscript.
Abbreviations
AACS
acute abdominal compartment syndrome
ACS
abdominal compartment syndrome
ASA
American Society of Anesthesiologists
IAH
intra-abdominal hypertension
IAP
intra-abdominal pressure.
Introduction
Colonic perforation due to colonoscopy rarely occurs but still remains a major complication with a high rate of morbidity and mortality and often needs surgical management [
1
]. The frequency of perforation is estimated to be 0.03% to 0.9% for diagnostic colonoscopy and 0.15% to 2% for therapeutic colonoscopy [
2
–
4
]. In diagnostic procedures, perforations often result from the pressure on the colonic wall, especially in ones noted to be a 'difficult procedure' by the endoscopist [
5
]. The diagnosis is often suspected after the visualization of extra-intestinal tissue. It is well established that therapeutic colonoscopies are associated with a higher incidence of perforation than diagnostic ones [
4
,
6
].
Abdominal compartment syndrome (ACS) refers to organ dysfunction that may occur as a result of increased intra-abdominal pressure (IAP)[
7
,
8
]. It may be classified as acute primary, secondary or recurrent according to its cause and duration [
9
,
10
].
We report a life threatening case of primary acute abdominal compartment syndrome (AACS) resulting from iatrogenic colonic perforation during a diagnostic colonoscopy.
Case presentation
We report the case of a 60-year-old Moroccan man admitted for the surgical management of a high rectal adenocarcinoma. He had no past history of cardiovascular or pulmonary disease, with no recent surgery, and was classified according to the American Society of Anesthesiology (ASA) as ASA II. He was scheduled to undergo a second colonoscopy by an expert endoscopist to eliminate a second colonic tumor before an anterior resection. Preoperative anesthesia investigations, including all blood tests, a chest X-ray and an electrocardiogram, were unremarkable.
On the day of the colonoscopy, our patient's blood pressure was 120/90 mmHg, his heart rate was 75 beats/minute, his respiratory rate was 12 breaths/minute, his body temperature was 37°C and he had a blood oxygen saturation level of 99% at ambient air.
Our patient had the procedure under conscious sedation with the presence of an anesthetist nurse. During the first five minutes of the procedure, the endoscopist reported some difficulties, but no signs of perforation, that caused a little discomfort and pain to our patient, which was managed with two 1 mg intravenous bolus injections of midazolam. This allowed our patient to remain awake and follow the endoscopist's instructions.
At that time his vital signs were unchanged except of a rise in his heart rate. At the end of the examination of his ascending colon, our patient developed progressive bradycardia. The endoscopist noticed a significant abdominal distension followed by respiratory distress that rapidly progressed to cardiac arrest. The procedure was immediately stopped and cardiopulmonary resuscitation begun. The reanimation team was called for intubation while closed chest cardiac massage was initiated by the endoscopic and surgical team.
Our patient was intubated and manually ventilated with 100% oxygen and epinephrine was administered. Despite these measures, the cyanosis worsened and his pulse was still not palpable.
After five minutes, a 14-gauge needle was used to decompress the abdominal tension as a last procedure to avoid a salvage thoracotomy (Figure
1
). His pulse was then detected, and his blood pressure started to rise, returning to the preoperative state. Our patient stabilized and was transferred to the intensive care unit.
×
A diagnosis of AACS due to iatrogenic colonic perforation was made and our patient managed accordingly. However, while he was in the intensive care unit, no intra-abdominal pressure measure was realized. Three hours later, our patient underwent a laparotomy and a sigmoid perforation was found just 3 cm upstream of the tumor. We decided to perform an anterior resection, including the perforation site in his sigmoid colon, with primary colorectal anastomosis protected by an ileostomy.
Our patient had no postoperative complications and was discharged on the tenth day. He returned after two months for the closure of the ileostomy and remains free of disease three years later.
Discussion
We describe this rare case of colonic perforation leading to AACS with pulselessness and cardiac arrest that was quickly and efficiently managed by a puncture decompression.
The unique and specific treatment of this exceptional acute state, when suspected, is abdominal decompression, performed by a decompressive abdominal laparotomy or an air puncture. Although the use of a 14-gauge needle seems to be so simple as to be inadequate, in our case it represented the salvage procedure after the failure of cardiopulmonary resuscitation. It permitted decompression of the IAH, restoring a normal pulse, blood pressure and respiratory rhythm.
The absence of any significant contamination (after colonic preparation for this procedure) makes it possible to perform an initial repair or, like in our case, radical surgery with a hemicolectomy and an immediate colorectal anastomosis.
Conclusion
During a colonoscopy, the endoscopist and anesthesiologists should be aware of this rare complication that may occur due to asymptomatic colonic perforation, and keep in mind the salvage action of fine needle decompression, because failure to recognize and treat AACS is inevitably fatal.
Consent
Written informed consent was obtained from the patient for publication of this case report and any accompanying images. A copy of the written consent is available for review by the Editor-in-Chief of this journal.
Acknowledgements
Authors would like to thank Dr Aditi Bhatt for her great help in writing the manuscript.
This article is published under license to BioMed Central Ltd. This is an Open Access article distributed under the terms of the Creative Commons Attribution License (
http://​creativecommons.​org/​licenses/​by/​2.​0
), which permits unrestricted use, distribution, and reproduction in any medium, provided the original work is properly cited.
Competing interests
The authors declare that they have no competing interests.
Authors' contributions
AS was the author in charge and wrote the manuscript. RM, LI and AB helped in writing the manuscript. HOEM was a major contributor in writing the manuscript. All authors read and approved the final manuscript.