01.12.2017 | Study protocol | Ausgabe 1/2017 Open Access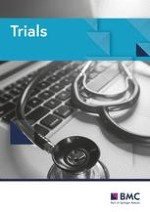 Addition of Propranolol in Resistant Arterial hypertension Treatment (APROPRIATE study): study protocol for a randomized double-blind placebo-controlled trial
Zeitschrift:
Autoren:

G. R. Constantine, P. Ranasinghe, P. Weeratunga, C. Weeraratne, P. Galappatthy, S. Rajapakse, U. Senarath, P. Katulanda
Wichtige Hinweise
Electronic supplementary material
The online version of this article (doi:
10.​1186/​s13063-017-1863-1
) contains supplementary material, which is available to authorized users.
Abstract
Background
Resistant hypertension is defined as an uncontrolled blood pressure despite treatment at best-tolerated doses with at least three antihypertensive agents including a diuretic. It is an emerging public health problem. At present clinical trial data on management of resistant hypertension is limited. Management is largely based on observational studies and expert opinions. Propranolol is a nonselective beta blocker. Several studies have confirmed that propranolol has a significant hypotensive action, both when used alone and as an adjuvant therapy. At present there are no prospective, randomized, clinical studies evaluating the effectiveness of propranolol in patients with resistant hypertension. Therefore, we have designed a prospective randomized trial to evaluate the safety and efficacy of propranolol in patients with resistant hypertension.
Methods/design
The study will be conducted as a randomized, double-blind, placebo-controlled clinical trial for a period of 3 months. The study has been approved by the Ethics Review Committee of the Faculty of Medicine, University of Colombo. A total of 200 adults with resistant hypertension will be recruited for the study. They will be randomly assigned to the test and placebo groups on a 1:1 ratio. The test group will receive propranolol 40 mg three times a day and the control group will receive an identical placebo capsule. The study drugs will be double blinded to both investigators and subjects. The visits and the evaluations will be done as follows: screening (visit 0), 1 month (visit 1), 2 months (visit 2) and 3 months (visit 3). The primary outcomes of the study is to find a statistically significant difference between the fall in mean systolic and mean diastolic blood pressure measured by ABPM (ambulatory blood pressure monitoring) from baseline between the two groups. Data will be analyzed using SPSS v16.
Discussion
To our knowledge this is one of the first randomized controlled trials evaluating the effects of propranolol in resistant hypertension. This study will provide the necessary groundwork for future large-scale, multicentered clinical trials. The result, positive or negative, should provide a step change in the evidence guiding current and future policies regarding treatment of resistant hypertension.
Trial registration
Sri Lanka Clinical Trials Registry, identifier:
SLCTR/​2016/​002
. Registered on 27 January 2016; Study protocol version 2.1.