01.12.2012 | Research article | Ausgabe 1/2012 Open Access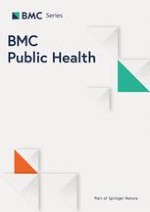 Age-based disparities in end-of-life decisions in Belgium: a population-based death certificate survey
Zeitschrift:
Autoren:

Kenneth Chambaere, Judith A C Rietjens, Tinne Smets, Johan Bilsen, Reginald Deschepper, H Roeline W Pasman, Luc Deliens
Wichtige Hinweise
Electronic supplementary material
The online version of this article (doi:
10.​1186/​1471-2458-12-447
) contains supplementary material, which is available to authorized users.
Competing interests
The authors declare that they have no competing interests.
Authors' contributions
KC, JB and LD were involved in the conception and design of the survey. KC carried out the data collection and the analysis of the results. All authors were involved in the interpretation of the results. KC and JR drafted the manuscript and all other authors critically revised it. All authors gave final approval for the manuscript.
Background
Method
Study design
We performed a death certificate survey in Flanders, the Flemish-speaking half of Belgium which has about six million inhabitants and approximately 55,000 deaths per year. This study was identical to a study performed in 1998 [
27
]. A stratified random sample of deaths was drawn by the central administration authority for death certificates, the Flemish Agency for Care and Health. All deaths between June 1
st
2007 and November 30
th
2007 of Belgian residents aged one year or older were first assigned to one of four strata based on the underlying cause of death, as indicated on the death certificate, and the estimated corresponding likelihood of an end-of-life decision. Sampling fractions for each stratum increased with this likelihood. Such disproportionate sampling was not done in 1998. This resulted in a sample of 6,927 deaths, about 25% of all deaths in the studied months and about 12% of all deaths in 2007.
Every certifying physician was sent a five-page questionnaire for a maximum of five cases, with at most three reminders in cases of non-response. A lawyer was involved in the mailing procedure as intermediary between responding physicians, researchers and the Flemish Agency for Care and Health to guarantee that completed questionnaires could never be linked to a particular patient or physician. Only coded patient information from the death certificates was linked to the corresponding completed questionnaires. By guaranteeing anonymity for physicians the potential risk of social desirability bias was decreased. After data collection a one-page questionnaire was mailed to all non-responding physicians asking for the reasons for not participating. The study design, sampling and mailing procedure are described in detail elsewhere [
28
].
Of the 6,927 questionnaires mailed to physicians in 2007, 3,623 were returned. From the non-response analyses we found that response was not possible for 725 deaths (because the physician had changed workplace and did not have access to the patient's medical file, because the patient could not be identified, because the physician was not the treating physician and did not know who this was or because the questionnaire had never reached the physician). The response rate was 58.4% (3,623/6,202 eligible cases). The response rate in 1998 was 48.1% (1925/3999).
Questionnaire
The 2007 questionnaire was identical to the one used in 1998 [
27
] and was validated through testing by a panel of physicians. It first asked whether death had been sudden and unexpected. If this question was answered negatively (and hence an end-of-life decision prior to death would not be precluded) the physician was asked whether he/she had: 1) withheld or withdrawn medical treatment taking into account (NTD) or explicitly intending (NTD+) the hastening of the patient's death 2) intensified the alleviation of pain and/or other symptoms with drugs taking into account (APS) or co-intending (APS+) the possible hastening of death and 3) administered, supplied, or prescribed drugs with the explicit intention of hastening death. If in the latter case the drugs had been administered by someone other than the patient at the patient's explicit request or prescribed/supplied and self-administered, it was classified as euthanasia or physician-assisted suicide (EAS). If there had been no explicit request from the patient, the act was classified as a life ending act – by administration of drugs – without explicit patient request (LAWER). An end-of-life decision is thus defined as a medical decision at the end of a patient's life that has a potential or certain life shortening effect.
In many cases more than one end-of-life decision can be made in relation to the same patient. Because asking the same questions about the decision making process preceding every ELD made would overburden the respondent, we asked only about decision making exclusively for the most important decision. We defined this as the decision with the most explicit life shortening intention and in case of two decisions with similar life shortening intention, administering drugs prevailed over withholding or withdrawing treatment. Questions about the preceding decision making process were: whether the decision had been discussed with the patient, family and other professional caregivers and whether there had been a request by the patient. If no discussion had taken place with the patient, physicians were asked whether the patient was deemed lacking in capacity and whether the patient had ever, implicitly or explicitly, expressed a wish for life ending. The questionnaire also asked about the reasons for coming to the most important decision. Independently of whether an end-of-life decision had been made, an additional question was posed whether the patient had made a request for euthanasia that had not been granted and if so, for what reasons. Demographic and clinical patient data were obtained from the death certificates, and linked anonymously after data collection.
Analysis
The response samples were corrected for disproportionate stratification (2007) and adjusted to be representative of all deaths for each year (1998 and 2007) for age, sex, place and cause of death. We selected the non-sudden deaths as denominator in all analyses. Euthanasia and assisted suicide were grouped together given that there were only five assisted suicide cases. For incidence estimates and comparison of estimates between 1998 and 2007, all ELDs made in each patient were included in the analysis. The most important ELD was taken into account in the analysis of the decision making process because questions about decision making were only posed for the most important ELD. Bivariate percentages were calculated and logistic regressions were performed to determine bivariate and multivariate p-values (age entered as categorical variable). A p-value of <0.05 is considered to indicate statistical significance. All statistical analyses were done using SPSS 17.0.
Results
Discussion
This study found a number of differences between age groups in end-of-life decision making. In 2007 the incidence of intensified pain and symptom treatment and also of euthanasia and assisted suicide decreased significantly with increasing age, but not after multivariate testing with a number of confounders. Comparing 2007 with 1998, decisions to intensify alleviation of pain and symptoms, not to treat, and to perform euthanasia or assisted suicide were more likely to have been made for intensified pain and symptom alleviation in all age groups, for non-treatment decisions in patients aged 65 or over and for euthanasia and assisted suicide only in the 65–79 age group. Alleviation of pain and symptoms with a co-intention to hasten death occurred less often in 2007 than in 1998 in all age groups whereas non-treatment decisions with explicitly intended life shortening were less likely only for the oldest age group and life ending without explicit request less likely only for patients younger than 80 years. As concerns decision making with the patient in 2007 this was more often done with younger patients for intensified alleviation of pain and symptoms. For such decisions a palliative care specialist was less often involved when the patient was 80 years or older while the opposite was found for non-treatment decisions. Lastly, in 2007 the rate of euthanasia requests decreased with increasing age and the oldest patients saw their request rejected more often, though this latter finding was not significant after multivariate testing.
There are a number of limitations inherent in this study. Given the length of time between the death in question and completing the questionnaire, we cannot exclude the influence of memory bias in the reporting physicians. Also, our survey includes only the perspective of the treating physicians and not those of relatives or other caregivers. The more than 40% non-response rate may have generated bias in the results, although the data were weighted to correct for this. As our study depends on a conceptualisation of reality, the classification scheme of ELDs as approximation may not fully reflect actual practices and ignore the complexity of end-of-life decision making. Furthermore, although we have information on the process of decision making, we do not know what the discussion outcomes were. Finally, we could not include in the analyses the patient's educational attainment as confounder to age due to the high proportion of missing cases, although this may be an important determining factor in end-of-life decision making.
Conclusion
We conclude that age is not a determining factor in the rate of end-of-life decisions, but plays a role in the preceding decision making process. Whereas the rates of non-treatment decisions and life ending without request do not differ between age groups, those of intensified pain and symptom alleviation and euthanasia/assisted suicide requests do but are determined predominantly by diagnosis ie cancer/non-cancer. Conversely, patient involvement in decision making ís determined by patient age independently of other factors and this suggests the need for a focus on advance care planning initiatives for elderly patients. Comparison with data from before Belgian euthanasia regulation yielded no evidence of a 'slippery slope' as fewer LAWER cases were reported since the euthanasia law. Nonetheless this needs to be monitored closely in the future.
Acknowledgments
We thank Herwin De Kind, Anne Kongs, the team of the Flemish Agency for Care and Health, lawyer Wim De Brock and Geert Pousset for their cooperation in the data collection. The Belgian National Disciplinary Board of Physicians approved and supported the study. Especially we thank the thousands of physicians who provided the study data.
Funding bodies are the Belgian Federal Science Policy Office (BELSPO) and the Institute for the Promotion of Innovation by Science and Technology – Flanders (IWT-Vlaanderen). KC is Postdoctoral Fellow of the Research Foundation – Flanders (FWO).
This article is published under license to BioMed Central Ltd. This is an Open Access article distributed under the terms of the Creative Commons Attribution License (
http://​creativecommons.​org/​licenses/​by/​2.​0
), which permits unrestricted use, distribution, and reproduction in any medium, provided the original work is properly cited.
Competing interests
The authors declare that they have no competing interests.
Authors' contributions
KC, JB and LD were involved in the conception and design of the survey. KC carried out the data collection and the analysis of the results. All authors were involved in the interpretation of the results. KC and JR drafted the manuscript and all other authors critically revised it. All authors gave final approval for the manuscript.