01.12.2017 | Research | Ausgabe 1/2017 Open Access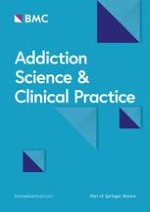 Alcohol consumption patterns and HIV viral suppression among persons receiving HIV care in Florida: an observational study
Zeitschrift:
Autoren:

R. L. Cook, Z. Zhou, N. E. Kelso-Chichetto, J. Janelle, J. P. Morano, C. Somboonwit, W. Carter, G. E. Ibanez, N. Ennis, C. L. Cook, R. A. Cohen, B. Brumback, K. Bryant
Abbreviations
HIV
human immunodeficiency virus
Background
Little is known about which specific patterns of drinking are most strongly associated with poor HIV viral suppression, and whether any associations can be explained by the impact of alcohol on ART adherence. Therefore, the objectives of this study were to determine the association of alcohol consumption to HIV viral suppression using two different definitions of alcohol consumption patterns (heavy use and binge-drinking), and to determine whether any associations could be explained by differences in ART adherence.
Methods
Participants
Between October 2014 and December 2016, we recruited 903 participants living with HIV/AIDS into the Florida Cohort. Initiated in 2014 and ongoing, the Florida Cohort collects self-reported information about demographic and behavioral factors that may affect health outcomes for persons with HIV/AIDS. Participants were recruited from a collaborative network of county health departments and community setting clinics throughout Florida (includes sites at Lake City, Gainesville, Tampa, Orlando, Sanford, Ft. Lauderdale, and Miami). Any person with HIV greater than 18 years of age was eligible to participate in the study. After providing written informed consent, participants completed an anonymous, self-administered questionnaire examining demographics, substance use, mental health symptoms, and HIV-related health behavior. In order to ensure that all interested and eligible persons could participate, study staff asked if assistance was needed to complete the questionnaire; in such cases the questionnaire was read to the participants. The survey took approximately 30–45 min to complete, and participants received a $25 incentive for their time.
With approval from the Florida Department of Health, survey responses were securely linked to medical records to obtain additional data on anti-retroviral medications, co-morbid health conditions, and laboratory test results, including HIV viral load and CD4+ T-cell count. Florida mandates that HIV viral load test results are reported to the statewide HIV surveillance system; for this reason, the surveillance information was able to be matched and linked for 97% of all study participants. The research procedures are approved by the institutional review boards (IRB) at the University of Florida, Florida International University, and the Florida Department of Health. In order to study the effect of alcohol on durable viral suppression, we limited this analysis to 619 participants who had been diagnosed with HIV for at least 1 year, who had at least 2 HIV viral load test results in the prior 12 months, and who did not have missing data for alcohol exposure. The 619 persons included in the analysis were not significantly different from those excluded for missing data about alcohol consumption in terms of age, race, or gender.
Measures
Alcohol consumption
Participants self-reported their alcohol consumption by answering the questions "In the past 12 months, how often did you have a drink containing alcohol" (options: less than 1–3 times a month, 1–3 times a week, 4–6 times a week, every day), "How many standard drinks would you have on a typical day" (range 0 to 6+), and "How often did you have 4+ standard drinks for women or 5+ standard drinks for men on one occasion? (options: never, less than monthly, monthly, weekly, or daily/almost daily)". These three drinking items are based on the AUDIT-C, a 3-item scaled used to screen for drinking in primary care settings [
21
]. Using this information, plus the question "during the last 30 days, what is the largest number of drinks that you drank within a 24-h period", we defined two different patterns of alcohol consumption. Average weekly consumption was determined by multiplying the average quantity and frequency, and "heavy drinking" was defined as consuming more than 7 or 14 drinks/week for women or men [
22
]. Binge drinking focused on the amount consumed in one sitting, and was defined as consuming ≥4 or ≥5 drinks for women or men at least once a month in the past 12 months [
22
]. Because over 90% of heavy drinkers also reported binge drinking, we categorized each person into one of four categories: Heavy (regardless of binge status); binge (not including heavy drinking), low level drinking (any drinking that was not heavy or binge), or no current drinking (abstinence).
Covariates
The study questionnaire assessed socio-demographic variables, including age, gender, race and ethnicity, education and homelessness. The Personal Health Questionnaire Depression Scale (PHQ-8 score) and Generalized Anxiety Disorder 7-item scale (GAD-7) were used to assess current depressive symptoms (PHQ-8 score ≥10) and current anxiety symptoms (GAD-7 score ≥10), respectively [
23
,
24
]. Current tobacco use was categorized as yes or no. We created a dichotomous summary variable that indicated any use of injected or non-injected illicit drugs in the past 12-months, including marijuana, cocaine/crack, heroin, pain medications (like oxycontin), sedatives, methamphetamine, ecstasy, and other stimulants.
Antiretroviral (ART) adherence
ART adherence was assessed by self-report, as this has been shown to correlate strongly with HIV outcomes and is simpler and less costly to obtain compared to other ART adherence assessment options [
25
,
26
]. ART adherence was defined as the proportion of days in last 30 days they did not miss any medications, based on their response to the question, "In the last 30 days, how many days did you miss at least one dose of any of your HIV medication?", and was dichotomized as ≥95 versus <95% [
27
]. Adherence of 95% or greater is considered optimal adherence and has been associated with improved outcomes in terms of CD4 count and viral suppression [
28
,
29
].
Viral suppression
HIV viral load values were obtained from HIV surveillance data. We considered the lab value closest to the time of baseline survey completion, and also all HIV viral load measures obtained up to 12 months prior to survey completion. We defined HIV viral suppression as an HIV-1 RNA test value ≤200 copies/ml. Durable viral suppression was achieved if all HIV viral load tests were suppressed viral load (≤200 copies/ml) in the past 12 months.
Data analysis
We first conducted a descriptive analysis comparing potential risk factors with the four patterns of drinking (heavy, binge, low, and none), using the Chi square test to assess for statistical significance across the 4 drinking categories. We compared the proportions of participants achieving durable HIV viral suppression and ≥95% ART adherence in each of the 3 drinking patterns compared to non-drinkers. We then conducted multivariable logistic regression analyses to identify the relationship of the different drinking patterns with durable viral load suppression, after controlling for demographic and behavioral characteristics that were significantly associated with durable viral suppression in bivariate analysis (p < .10). Crude and adjusted odds ratios with 95% confidence limits were reported. To assess whether the relationship of alcohol consumption to viral suppression was mediated by ART adherence, we conducted a mediation analysis [
30
]. The mediation analysis sought to differentiate the direct effects of heavy drinking on HIV viral suppression from indirect effects mediated by ART adherence. Because the dependent variable was not rare, we used a generalized linear model regression with a log link function for viral suppression, which produces estimates of risk ratios. No covariates were included due to convergence issues when fitting a log-linear model for the outcome. The mediation macro developed by Valeri and VanderWeele was used to calculate the bootstrap confidence intervals with 1000 bootstrap samples [
30
].
Overall, missing data on most covariates of interests were minimal (<3%). However, approximately 9% of participants did not report or partially reported the use of illegal drugs in the past year. In order to address the potential for biased estimates, multiple imputation was performed using fully conditional specification (FSC) method to generate 20 complete datasets. All variables in the multivariable model were used in the imputation. All data analyses were performed in SAS version 9.4 (SAS Institute, Carry, NC, USA).
Results
Discussion
In this sample of persons living with HIV infection in Florida, heavy alcohol consumption was associated with approximately twice the odds of having suboptimal HIV viral suppression compared to non-drinkers, even when accounting for several potential confounding variables. In contrast, adults who reported occasional binge drinking but did not meet criteria for heavy drinking were not as a group significantly different from non-drinkers in terms of overall durable HIV viral suppression. The findings demonstrate that differences in the way that alcohol consumption is measured and defined can result in different conclusions about the relationship of alcohol consumption with HIV-related health outcomes or behaviors.
Authors' contributions
RC helped design the study, oversaw data analysis, wrote primary draft. ZZ and BB did data analysis, NKC helped design study and write paper. JJ, NW, CC, JM, RC helped to design the study questionnaire, JM, CS, WD, GI helped to collect data at different settings; KB helped design the overall study. All authors read and approved the final manuscript.
Competing interests
The authors declare that they have no competing interests.
Availability of data and materials
Consent for publication
All authors declare that they consent to publication.
Ethics approval and consent to participate
The study is approved by IRBs at the University of Florida, Florida Department of Health, and Florida International University.
Funding
This work was supported by NIAAA Grant U24 AA022002, U24AA022003, and from the State of Florida via the University of Miami Miller School of Medicine Institute for AIDS and Emerging Infectious Diseases.
Publisher's Note
Springer Nature remains neutral with regard to jurisdictional claims in published maps and institutional affiliations.
Open Access
This article is distributed under the terms of the Creative Commons Attribution 4.0 International License (
http://​creativecommons.​org/​licenses/​by/​4.​0/​
), which permits unrestricted use, distribution, and reproduction in any medium, provided you give appropriate credit to the original author(s) and the source, provide a link to the Creative Commons license, and indicate if changes were made. The Creative Commons Public Domain Dedication waiver (
http://​creativecommons.​org/​publicdomain/​zero/​1.​0/​
) applies to the data made available in this article, unless otherwise stated.